Whether you're eager to reminisce about your high school years, or are seeking something fun to watch with your teenager – our listicle will have what you're looking for.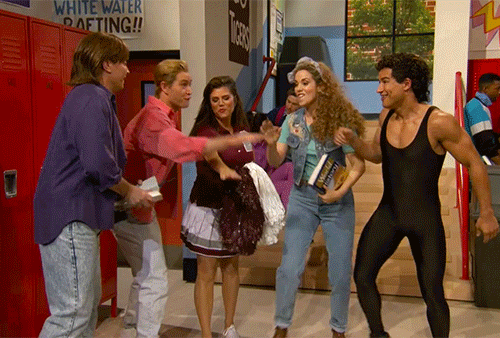 Even if it's been a while since you were in school, your time in high school will always hit different when you look back on it. Remember the days when you had to deal with mean girls and bullies, skipped class with your friends, and got into trouble for sharing notes in class? The good news is that you can relive those moments by watching some upbeat films.
Check out our list of movies that beautifully capture the fun, heartbreak, goofiness and romance of our high school years.
Do Revenge
Do Revenge has numerous allusions and homages to the top high school films from the 1990s and the early 2000s. The black comedy, a hybrid of Clueless and Heathers, stars Camila Mendes from Riverdale as Drea, the headstrong student at a prestigious private school. Drea attends school on a scholarship, in contrast to the majority of her popular classmates, a fact she conceals to prevent discriminatory teasing.
Despite planning every detail of her life, Drea finds herself the target of jokes after her ex-boyfriend Max (Austin Abrams of Euphoria) releases a private video of her. Drea meets shy girl Eleanor, played by Maya Hawke, over the summer because she will be entering Drea's school in the autumn. Eleanor, the target of a homophobic rumour, shares Drea's anxiety about the start of the semester. The two band together to "get even," but the film's surprises and delights will shock even the biggest aficionados of the genre.
Blockers
Blockers is a must-see movie if you're looking for an "update" of American Pie. Julie, Kayla and Sam, three best friends, make a deal that they will all "lose" their virginity before college. In the meantime, Lisa, Mitchell and Hunter, their overprotective parents, go to absurd lengths to prevent their separate prom-night couplings.
Senior Year
What happens when you awaken from a 20-year coma and return to school, which is now much more egalitarian than it was when you were a kid?
Our protagonist (played by Wilson) awakens in a suburban American hospital bed, where she had been unconscious for the previous twenty years. Steph determines she will continue what she had started in a different era, including the 12th grade, on the same terms after adjusting to the shock of being a mental teenager in a body that is 37 years old.
Mean Girls
Mean Girls may be the queen of quotable films, not just among comedies, but also among films about high schools. In a way that just hadn't been done before, Mean Girls centres young women in high school, and does it in a way that manages to be both hilarious and thought-provoking. It sees the protagonist, Cady, negotiating the American high school hierarchy without succumbing to it.
Regina George and her allies are in charge of the school. Together, the three make up the Plastics, a group with a history of intimidation and deceit. Cady infiltrates the Plastics to bring them down after becoming friends with loner Janis and Damian, but she ends up becoming at least as bad as them. Mean Girls is not just "so fetch," but also the greatest high school film ever, and it has become a pop culture phenomenon.
10 Things I Hate About You
The classic adolescent rom-com 10 Things I Hate About You is one of those high school films that is constantly quotable. Shakespeare's The Taming of the Shrew served as the basis for the main plot, which authors Karen McCullah and Kirsten Smith then transplanted onto brash teenage students. It's a movie full of misunderstandings, murky motivations, and sharp humour, just like high school.
Although Cameron is a new student at Padua High School, he develops feelings for Bianca Stratford, who is the most popular student there. Of course, the issue is that Bianca's father forbids her from dating and orders that Bianca wait until her older sister, Kat, has done so before she can date. Despite Kat's inability to date and antisocial personality, Cameron manages to set up a relationship between Kat and charming bad boy, Patrick.
High School Musical
High School Musical is one of the few made-for-TV films that overcame its modest beginnings and enthralled a generation of teens and tweens.
Troy Bolton and Gabriella Montez, two high school students who accidentally sing karaoke together while on winter break and find a shared love of music, are the main characters of High School Musical. By chance, Gabriella transferred to Troy's school, East High, in the new year after relocating to his hometown of Albuquerque, New Mexico. They reluctantly try out for their school's musical, much to the chagrin of the whole student body.
Their struggles include fending off criticism from Sharpay Evans, the head of the drama club and a celebrated actress, and Ryan Evans, her twin brother, as well as Troy's best friend and basketball player, Chad, and Gabriella's new confidante and scholastic decathlon partner in crime, Taylor.
Lady Bird
Lady Bird, which received five Academy Award nominations, is one of the few high school films that immediately won over both viewers and critics. Saoirse Ronan plays Christine "Lady Bird" McPherson in the movie, which follows the highs and lows of her senior year in 2002 Sacramento.
The girl is ready to move away from her area and attend college on the East Coast, which, according to Lady Bird, has real culture. Given her family's precarious financial circumstances, her mother Marion thinks her daughter is ungrateful, which doesn't sit well with her. Lady Bird confronts the issues in parent-child relationships that most people would prefer to look away from – in an amusing and painful way.
Booksmart
Olivia Wilde makes her directing debut with the teen comedy Booksmart, which also catapulted Beanie Feldstein and Kaitlyn Dever to new heights. Booksmart was acclaimed as an instant classic upon debut, and for good reason. Unpopular academic darlings Molly and Amy made the decision to finally breach the law and cause some trouble the day before graduation. Amy reluctantly consents to go with Molly to a classmate's graduation party without a chaperone.
Molly, who is upset that they didn't enjoy high school, believes they can get their kicks in one night of absolute glory. Booksmart is consistently unexpected, breaking the stereotypes of particular high school students and even presenting a sophisticated LGBTQ crush storyline. Booksmart, a touching examination of juvenile friendship, demonstrates how high school pals can develop in various paths while still being significant to one another.
She's The Man
She's the Man not only taught us how to use tampons for nose bleeds, but also gave us a chance to get to know Channing Tatum. The film follows Viola Hastings, who covers for her brother by impersonating him and attempting to join the boys' football team. Suffice it to say, chaos unfolds.
The Half of It
Ellie Chu, a Chinese American student who writes articles for money to help her father, is portrayed by Leah Lewis in the movie.
In an intriguing turn of events, Ellie finds herself composing love letters for the neighbourhood jock Paul Munsky, who is vying for Aster Flores' affections. Ellie, who begins to develop feelings for Aster, finds it easy to write love letters. The Half of It is a novel interpretation of the high school friendship love story that is also rife with teenage longing and high school politics.
Riverdale
It's not a movie, we know – but it's definitely worth watching.
The plot of Riverdale, which was first published in Archie Comics in 1941, centres around a group of high school classmates who are horrified by the passing of Jason Blossom, a classmate. Together, they uncover Riverdale's mysteries and the identity of Jason's killer. With hook-ups, hot tub hijinks, and teacher-student relationships, the plot is a lot of fun. Time jumps, parallel universes, fake deaths, and sacrifice offerings are just a few of the surprising trips the series will take you on. Naturally, you must listen to the intricate stories told by the people of Riverdale if you want to stay glued to your seats.
Never Have I Ever
A first-generation Indian-American kid wants to raise her standing at school after a difficult year, but she finds it difficult due to her friends, family, and emotions.
Follow Devi Vishwakumar, a bright student with a whole lot of attitude, as she goes through high school with only one thing in mind: Princeton. This series is not just about boys (although there's lots of juice on it) but also about family and friends that keep Devi on her feet through her high school era. Expect lots of funny and awkward moments that'll keep you entertained through the end of its season.
Follow us on Instagram, Facebook or Telegram for more updates and breaking news.