Pink wardrobes, pink accessories and blonde hair – all things Barbiecore exploding over the past few months have been difficult to ignore. Thanks to the Margot Robbie-starring Barbie movie blockbuster, the TikTok hashtag #barbiehair has amassed millions of views and counting. It's obvious that the film has had an impact, and it seems as though we are all currently residing in Barbie Land.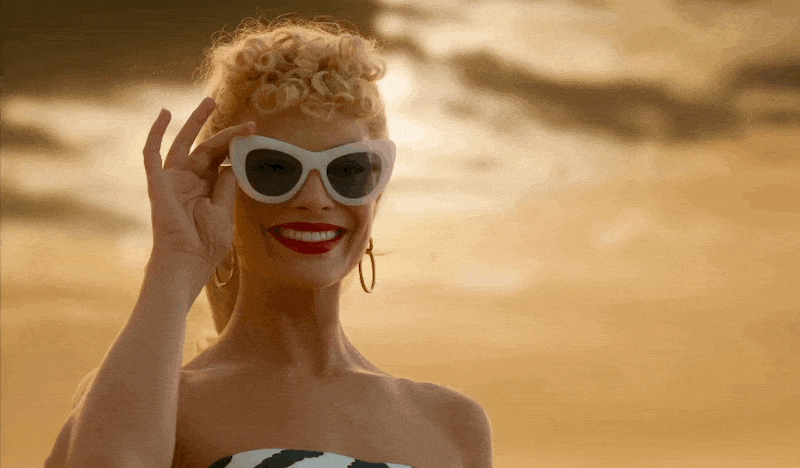 Considering that there is a whole TikTok fad centered around ladies buying their own "comfort Barbie dolls", who had tears in their eyes as they watched the movie, many people have recognized that the Barbie hype is completely justified. They're also starting to understand that Barbie isn't just a fashion icon for pink clothing and accessories.
The Barbie movie is also credited with a plethora of beauty trends that have taken off since its release, helping people to embrace their inner children one movie screening at a time. One of these is 'Barbie fringe', a style that takes its cue from Robbie's face-framing, 1960s-style hairdo in the opening scene. Of course, it goes without saying that ladies of all hair colours (not just Barbie blonde) can have the bouncy, doll-like hairstyle.
The Barbie fringe is basically choppy, eyelash-skimming bangs along with some cascading curtain fringe that frames the face. It's particularly attractive when worn with long hair with a luscious volume. But hold up for a moment – Barbie doesn't just stop at bangs!
Here are other Barbie-inspired hairstyles that you should totally check out to bring out your inner child:
Retro High Ponytail
Do you still remember the teaser that started the Barbie craze? WE do. Our jaws fell when we had our first look of Robbie's Barbie, dressed in a vintage black and white bikini, white court shoes, and matching cat-eye sunglasses. But what really got people's attention was her haircut. A smooth, extremely high ponytail. Oh – and the vintage, curling fringe. Simply divine.
To create the curly fringe for this vintage Barbie look, start by sectioning off the front of your hair. Then, take hold of your paddle brush and pull the remainder of your hair into a high ponytail – the higher, the better! Make sure it's extremely sleek and secure, then apply some gel to prevent flyaways. Here's where the magic happens. If you already have naturally curly hair, simply blow dry wet curls with a hair dryer. However, if your hair is more on the straight side, try a hair curler with a tiny barrel to simulate the tight ringlets that really give the retro vibe. To add more definition to the look, you can create some nice curls to the bottom of the ponytail.
If you've got short hair and worry too much about the volume, you can always use wigs to create this look (nobody's gonna know!)
Half-Up, Half-Down 
This is a famous Barbie lewk and arguably one of the most recognizable from the movie. It's casual, stylish, and easy to replicate at home.
We need as much volume as we can get for this look. The best hair is that which hasn't been washed in a day or two. However, it's ideal to use a root lifting spray on your roots and blow dry your hair upside down to add volume if you're working with recently-washed hair. Once you're all ready, use a curler to create some gorgeous curls.
Next, divide the top layer of hair you wish to style up into sections. Back-comb underneath each part using a fine-tooth comb, then secure each segment with bobby pins or an elastic hair tie. The result is hair that resembles a beehive. Make sure your hair is smooth and lovely at the top. In order to create some framing around the face, if you have a fringe, be sure to pull these pieces out towards the front. The parts can be curved with a straightener or your heated brush.
The final touch? Add a big, pretty pink bow to make this simply hairstyle elegant.
Bouncy Party Blow-Dry
Thick, bouncy curls are perfect if you want to channel your inner Barbie. It's simple to reproduce this look at home; all you need to do is give those locks some volume and use a few essential tools. Working with freshly washed hair is the best, because you won't have that greasy feeling.
Once your hair is ready, start by piling half of it up and away from your face, starting just above the ears. In order to roll up the rollers and secure them, take locks from the back of your head and pull them over your shoulder. Since the heating and cooling process shapes the hair, it is essential to let the rollers cool completely before removing them. Add a spritz of hair spray while the rollers are still in place to help set the curls for maximum bounce.
Here's a pro tip: shake your head upside down after taking out all the rollers to give your hair extra hold. Then flip it right side up and shape it with your hands to complete the style.
Leaving Barbie Land Side Braid
@alexmichaelmay

 EEK! Obsessed with how my #SuaveDreamHair turned out! Shoutout to @Suave pink for getting my hair sleek, smooth & shoot ready. If you want to try this yourself here's the step-by-step of the look @Sarah Potempa created, and I'll link the products we used to bring it to life in my stories! PS- WHO IS EXCITED TO SEE THE NEW MOVIE BARBIE, ONLY IN THEATERS?! Little me is SHAKING rn #SuavePartner #BarbieTheMoviexSuave #BarbieTheMovie @Barbie Movie #Ad (Previously Recorded)
This is a quick and cute side braid that you can easily pull off if you haven't got must time to style your hair. All you need is invisible elastic hair ties. Using a fine-tooth comb, divide the hair into three equal sections, making sure each is the same size. Pulling your hair to one side, braid it all the way down, leaving a few inches of it unbraided at the ends. Use one of your plastic bands to affix.
To add definition to this style, gently pull some of the braided parts to give a nice and chunky but not too tight look. For the finishing touch, pull out some pieces of hair at the front to frame the face, or if you have a fringe, even better! You can leave it as is or add a pretty pink bow at the end of your braid and you're done.
Follow us on Instagram, Facebook or Telegram for more updates and breaking news.