A common misconception when it comes to Korean music is that one is limited to the option of only K-pop. Whilst representing what's popular, (arguably making up a large part of pop music) the K-genre is full of bountiful finds.
If you prefer authentic chords over the tooth achingly sweet sounds of pop music, a particular genre worth checking out is definitely the rock scene of Korean music.
Day6
One of the more popular Korean rock bands right now, Day6 have steadily risen towards the light of fame. With a sound that has the likes of soft rock ballads to pop punk anthems, Day6 seems to be the gift that keeps on giving. Recently the five piece set tackled an 80s synth pop concept with "Days Gone By", giving us a shot of nostalgia complete with their classic-rocker do. (We're absolutely loving that mullet on Young K!) The track gives off the vibes of the likes of Duran Duran with just a hint of modernity, such as the The 1975. Despite its seemingly cheery sound, the song speaks the language of heartbreak— though admittedly not surprising for a Day6 track. With hopes to keep hold on to happy memories, although that's all they'll ever be; "Days Gone By" is a bittersweet anthem.
Songs to check out: "I'm Serious", "Hunt", "I Need Somebody"
N'Fying
FNC Entertainment's quirky rap-rock band is probably not what one would expect at first glance. With hit and misses, the band finally nailed it with their most memorable release, "Hot Potato". Keeping in their playful nature, the song has a curious one line where member Jaehyun yells out in shock, "Are all of you paparazzi?!" before launching into the chorus. However make no mistake, as gimmicky as "Hot Potato" may seem— it delivers as a solid rock song. The track itself is a fun roller coaster of a ride; with a cheery beginning, a heartfelt bridge, heavy guitar riffs accompanying a rap delivery; all with a belt-along killer chorus. N.Flying may not be your stereotypical rock band, but they certainly do have stand out tracks in comparison to everyone else.
Songs to check out: "The Real", "Rooftop", "Like A Flower"
The Rose
https://www.youtube.com/watch?v=OmetCO_ZFnI
Soft rockers The Rose are steadily gaining fans by luring them in with their gentle yet upbeat tracks. Perhaps the most notable single by them would be "BABY", the Brit pop track which builds you up for a non existent chorus break. Personally, we think The Rose oozes potential but has been nothing but frustratingly mediocre. No doubt talented, their choices of playing it safe with seemingly repetitive sounds have honestly got us bored. That being said, The Rose does an excellent job of hitting the mark on its head when it comes to ballads. From their strong debut of "Sorry" to "I.L.Y.", we see the full extent of the gorgeous vocals when crooning on songs about heartbreak.
Songs to check out: "Sorry", "I.L.Y.", "She's In The Rain"
Hyukoh
As we descend to the more indie side of Korean rock bands, it's almost impossible to not mention this group. Hyukoh feels like an enigma; they're in a league and genre of their own. With the ability to transport their listeners into a different era and mood from a single track, they are perhaps one of the most unique and talented bands of today. Their tracks are nothing but full of raw emotion; let it be sadness, happiness or whatever one can muster. It's in how human they come across that makes them such a standout band. Out of all their songs however, it's the hauntingly beautiful "TOMBOY" that truly gets you.
Songs to check out: "Comes and Goes", "Leather Jacket", "Graduation"
South Club
When Nam Taehyun announced his departure from WINNER, many hearts were broken from the news alone. However, good things come to those who wait. Even though the man may not be alongside his groupmates, Taehyun seems to be blossoming perfectly well by himself. Bringing the influences of good ol' blues rock and roll, South Club brings back a flavour that seems to be forgotten by the many layers of time. "OUTCAST" is a perfect example of it; with a bass and guitar riff that builds right up to the groovy chorus adorned with distortions and organ. From the kooky fashion to the eyeliner, South Club reminds us of what it's like to be punk in the early days— but with just a tang of their own seasoning.
Songs to check out: "Dirty House", "Grown Up", "Hug Me"
The Black Skirts
Much like Hyukoh, The Black Skirts too have the ability of transporting their listener into a different dimension. The band seemed to have mastered the ability of capturing the sound of what it feels to be so relaxed that you feel yourself physically melting, then transdencing into a higher place. Their airy and almost psychedelic sound seem to have the function of making every moment a less stressful one. If laid back, chill rock music is more of your scene—  The Black Skirts are definitely the answer to your question.
Songs to check out: "Queen of Diamonds", "Everything", "Who Do You Love"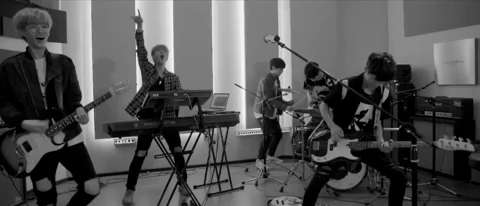 Out of all these six bands, do you see any familiar names? So far only Hyukoh seems to have paid our humble home a visit but rumours say that Day6 may finally be saying "Hi Hello" to us too! Let's keep our fingers crossed for a year of more K-rock gigs in KL!
Article by Leyasheena Panicker.
Follow us on Instagram, Facebook or Telegram for more updates and breaking news.