Malaysian fans, your prayer have been answered. Jason Mraz is returning to Malaysia next month!
If you recall, when the Grammy-winning artist announced his 2019 Asia tour last year, only 6 countries were included. And Malaysia wasn't one of them. So this news definitely comes as a surprise.
The singer-songwriter's "Good Vibes" tour will follow his 6th studio album "Know", which was released in August 2018. "Good vibes is good vibrations; it's being a constant source of good energy, and I didn't want to just limit it to the album. By the time we come here next year, the album will be almost a year old and I really wanted to bring all the albums with me," Mraz explained why he called his concert "Good Vibes".
He added, "The whole point is to lose ourselves in song and to harmonise and connect as humans, because life can be very hard and challenging, but music is a way for us to connect to our true selves, as natural, spiritual beings. Music allows us to transcend all of that — that's what good vibes is all about."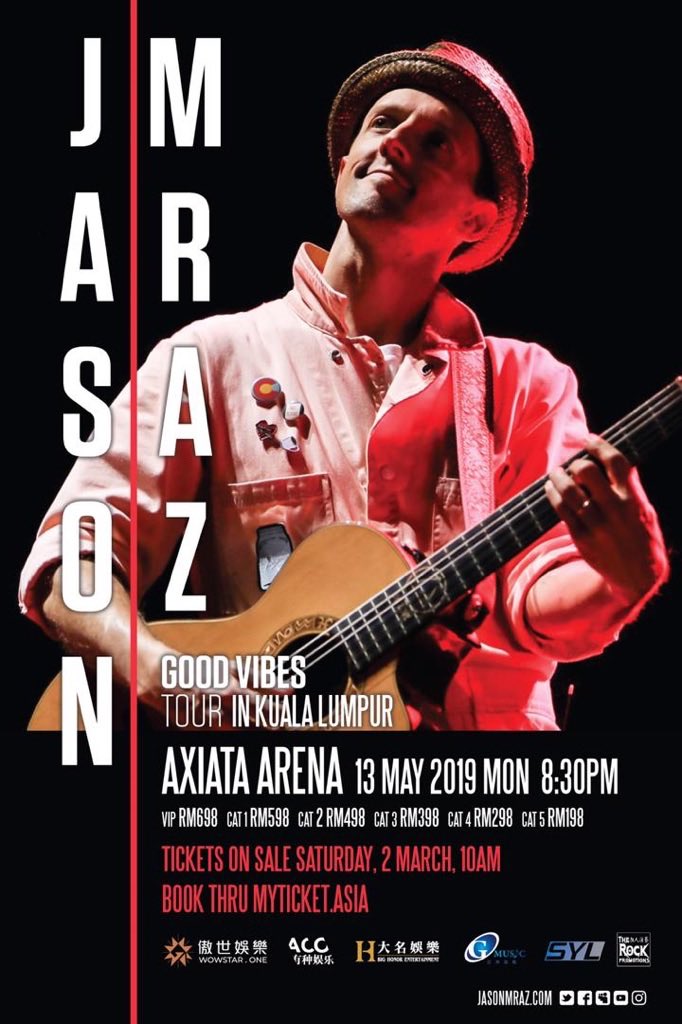 The details to Jason Mraz's "Good Vibes" tour in Kuala Lumpur are as follows:
Date: 13th May 2019 (Monday)
Venue: Axiata Arena, Kuala Lumpur
Time: 8:30pm
Ticketing: RM198, RM298, RM398, RM498, RM598, RM698
Concert tickets will go on sale via MyTicket Asia on 2nd March 2019 (Saturday) from 10am onwards.
UPDATE (28th February):
For all you Great Eastern LIVE GREAT card members, you'll be entitled to an exclusive 15% off on all tickets when you make your purchase between 2nd – 8th March.
Card members will just enter the first 6 digit of their LIVE GREAT card to enjoy this privilege at https://myticket.asia.
Follow us on Instagram, Facebook or Telegram for more updates and breaking news.