The internet blew up when Shawn Mendes debuted his hot photoshoot for his Calvin Klein underwear campaign.
The 20-year-old pop star doesn't post too many shirtless photos on social media, but when that happens, people become obsessed over it. It wasn't just the fans who went wild for his underwear shots but celebs too!
To date, the photo above has ranked in 8 million likes (his highest so far) and 461k comments. Needless to say, the response from famous figures and fans have been pure gold – mostly showing their deep appreciation for his abs.
It's safe to say that the ads for "The Face of Calvin Klein" usually don't disappoint. They're pretty hot actually. Mendes is not the first, and he certainly won't be the last male Hollywood celebrity to show off his Calvins.
Scroll down to see other Hollywood hunks who have previously modelled the Calvin Klein underwear:
1. Mark Wahlberg (1992)
Back in 1992, Mark Wahlberg was the first original celebrity to model Calvin Klein men's underwear. The then-rapper known as Marky Mark used to be well-known for dropping his pants. This billboard gave fans something more to look at. Needless to say, this opportunity launched his big-screen stardom.
2. Jamie Dornan (2009)
Before we knew him as Christian Grey, Jamie Dornan was a successful male model including his steamy shot for Calvin Klein in 2009. There's no doubt these dashing ad helped sealed the deal for his role in the "Fifty Shades of Grey" movie franchise.
3. Kellan Lutz (2010)
The following year, all eyes were on Kellan Lutz as the "Twilight" heartthrob stripped off to front the Calvin Klein Underwear campaign. The former Abercrombie model proved that he had the whole package to charm people off screen as well.
4. Nick Jonas (2014)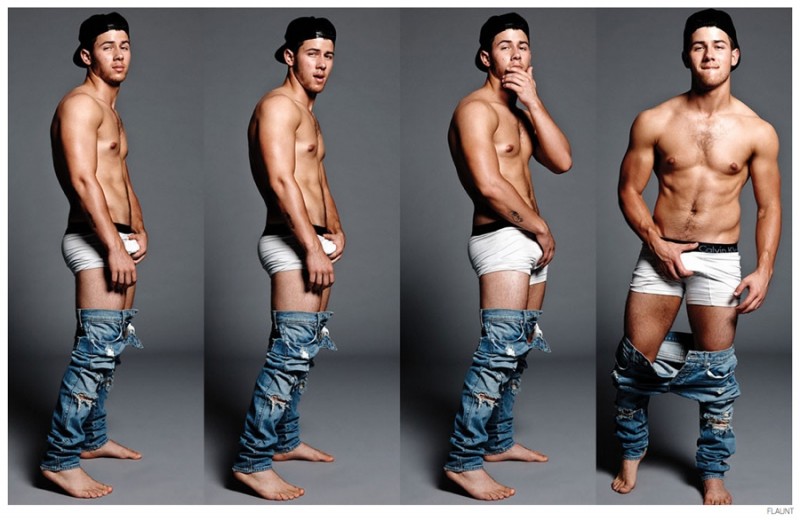 Nick Jonas' 2014 Calvin Klein ad got a lot of attention for many reasons. Not only were his poses a tribute to Mark Wahlberg's classic crotch-grabbing Calvin Klein ads from the '90s, but it was also his "I'm an adult now" statement to the world.
5. Justin Bieber (2015)
Justin Bieber's ad was met with backlash when it came out in 2015. Many people were questioning the size of his bulge, with claims that it was enhanced. Bieber's team came to his defence, insisting that those were his goods and they had not been altered in any way.
6. Trevante Rhodes (2017)
Shortly after "Moonlight" won big at the Academy Awards in 2017, newcomer Trevante Rhodes blessed fans with his Calvin Klein underwear ads. He wasn't alone though. The other men including Mahershala Ali, Ashton Sanders and Alex Hibbert were also featured in the campaign.
7. Noah Centineo (2019)
Craving for more abs? Netflix breakout star Noah Centineo also dropped his undies for the spring 2019 campaign, too. Now fans are urging Calvin Klein to bring both Centineo and Mendes together in the same ad.
Follow us on Instagram, Facebook or Telegram for more updates and breaking news.