Hellboy is back. And the new brawny red monster hunter is hairier, angstier, and more immature than before.
Actor David Harbour has expressed the upcoming "Hellboy" reboot is not an origin story. Directed by Neil Marshall (Guillermo del Toro, who directed the first 2 films, left because of creative differences), the new version will be truer to the comics in terms of its script and appearance.
As you may know, Hellboy is a half-demon from Hell who was summoned by Nazi occultists and raised by a surrogate human father, Professor Trevor Bruttenholm. The titular character is prophesied to be the Beast of Apocalypse, who will one day bring about the end of the world. His huge stone right hand isn't just for show though. It's apparently the key to releasing ancient demons from their cosmic prison that will kick-start the apocalypse.
In the newly-released trailer, we see Hellboy being a formidable asset to the US Bureau for Paranormal Research and Defense (B.P.R.D.), which is run by his adoptive father. Here's a breakdown of the major players and story secrets you probably didn't know about the reboot:
1. Ian McShane in the role of Professor Broom 
Trevor Bruttenholm, or Professor Broom first discovered Hellboy as a child and took on the role as a foster father. Their relationship not your typical father-and-son dynamic. In fact, Hellboy notes that his "father" got him guns instead of Legos.
2. B.P.R.D. is base in London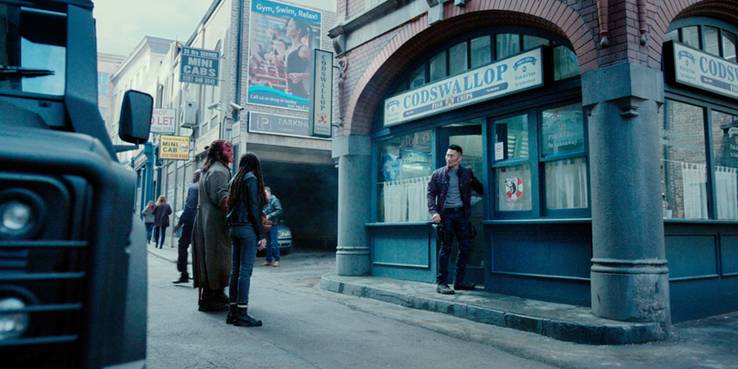 BPRD has various secret bases. One of them is a false store-front in an urban area hidden within a fish and chips shop called Codswallop. Screen Rant also notes that Codswallop is a British slang term for "nonsense" – a jab at the Americans perhaps?
3. The Osiris Club 
The trailer doesn't point out the Osiris Club by name. Instead it shows group of well-dressed British gentlemen questioning Hellboy about his right hand. In the comics, the Osiris Club are well aware about cosmic secrets and the various supernatural evils.
4. Hell and demons
Given that hell is a part of the character's name, it places a significant role in the storyline. Since the reboot is based on "The Wild Hunt" comics, it will probably delve into the politics of Hell. There is also a fair amount of demons. Among them are: a boar-headed creature, a demonic bat-lie creature with blades, and giants.
5. Sasha Lane as Alice Monaghan
Alice Monaghan retains a connection to the magical world ever since she was kidnapped by fairies as a child. Her unique powers allow her "to see through the glamours used by the fae as well as those magicians who draw power from a connection to fairies". No doubt, this makes her an instrumental asset to the BPRD.
6. Daniel Dae Kim's Major Ben Daimio isn't a fan of Hellboy
"Just because they all exist in this universe doesn't make them all friends. There are suspicions and rivalries. As far as how he holds his own, let's just say Daimio has a few tricks up his sleeve," Kim on why Major Ben Daimio doesn't see eye to eye with Hellboy. As far as "tricks", the soldier had became a host to a supernatural entity. As a result, he is gifted with amazing recuperative powers.
7. The big bad: Nimue, the Queen of Blood
Nimue (played by Milla Jovovich) is a powerful witch who despises humans for what they have done to her kind. Once known as the Lady of The Lake, Nimue became the Queen of Blood when she switch her allegiance to the Ogdru Jahad. For those that don't know, Ogdru Jahad is the great Dragon of Revelation, who would bring about the end of the world.
8. The Apocalypse Crown on Hellboy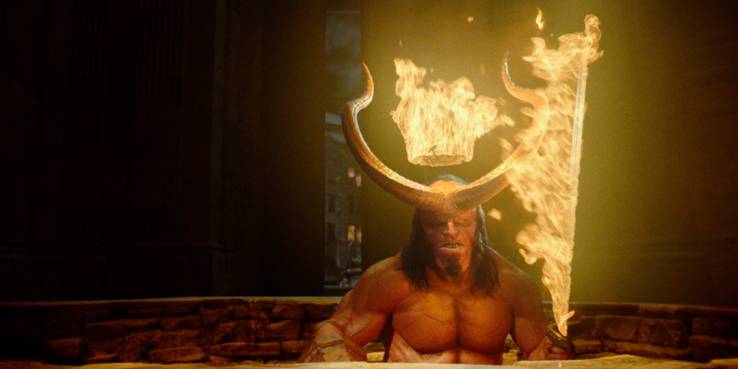 At the end of the trailer, we see Hellboy wielding a flaming sword with a fiery crown on his head. It is known as the Apocalypse Crown. It's essentially a demonic artefact that will bring forth the end of the world.
Watch the trailer below:
"Hellboy" debuts on 12th April 2019.
Sources: Entertainment Weekly, Screen Rant.
Follow us on Instagram, Facebook or Telegram for more updates and breaking news.