There seems to be a new FOMO-worthy date night concept appearing in our FYP every week – from alphabet dating to the two-date hypothesis. But it's still tough to keep your weekly dates engaging, enjoyable and novel. But we may have just found a foolproof date idea on TikTok that's all the rage among couples: LEGO date night!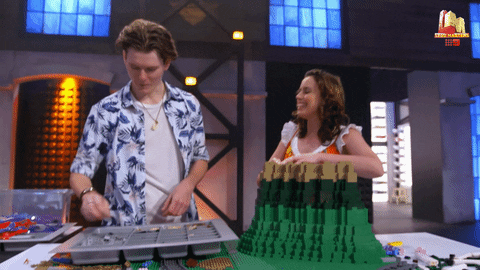 Okay, we know you're all grown ups (well, most of us) but that doesn't mean you can't have a little fun in your relationship. We're so over dates revolving around old notions of getting flowers, candlelight dinners and dressing up fancy. Like, you can do all that basic stuff, but sometimes, having a little fun is all you and your boo need. In addition to being a sweet way to bond, the LEGO date night brings an imaginative take on quality time that'll also appeal to your inner child.
Though it's unclear who first suggested the concept on TikTok, it appears that the dozens of couple videos that turn up when you search for "LEGO date night" owe a huge debt of gratitude to the originator. The adventure involves taking your partner to a LEGO store – but instead of choosing a challenging set that, let's be honest, would definitely result in a few arguments throughout the assembly process, you each construct your own personalized LEGOs.
In case you're not aware, LEGO stores have an area called "Build a Minifigure" where you can choose from a variety of clothing, expressions, and accessories to make your own toys with. You can create three unique LEGO models and even take them home in special LEGO-safe packaging.
Even if this date idea won't endure – unlike a three-course meal at a fine restaurant, or a night at the movies – a short look at the hashtag #legodatenight will demonstrate that the fun doesn't have to stop there. Since you can't visit a LEGO store without leaving with a new toy, or two, or three, many couples also spend the themed date night creating a new set. Who, after all, wouldn't want to construct a gorgeous piece of decor for their shared house or build a bouquet of flowers with their significant other?
So, if you want to keep your LEGO date going, we've got some of the best LEGO sets you and your boo can consider:
Taj Mahal
Great Giza
Himeji Castle
Winnie The Pooh
Disney Castle
Typewriter
Vincent Van Gogh
Hogwarts Castle
Hogwarts Express
Nintendo Entertainment System
Question Mark Box
Follow us on Instagram, Facebook or Telegram for more updates and breaking news.