ARMYs may possibly be one of the luckiest fandoms. While most fans experience 'droughts' when their favourite groups aren't active, BTS ( 방탄소년단) just seems to be pumping out content for fans to feast on all the time.
On top of album releases, interviews, graphic novels, collaborations, documentaries, variety shows, and concerts; "BTS World" is now added to that growing list. After a year of promoting the mysterious "BTS World" all over the globe, the game has finally dropped and is available for download on both the App Store and Google Play.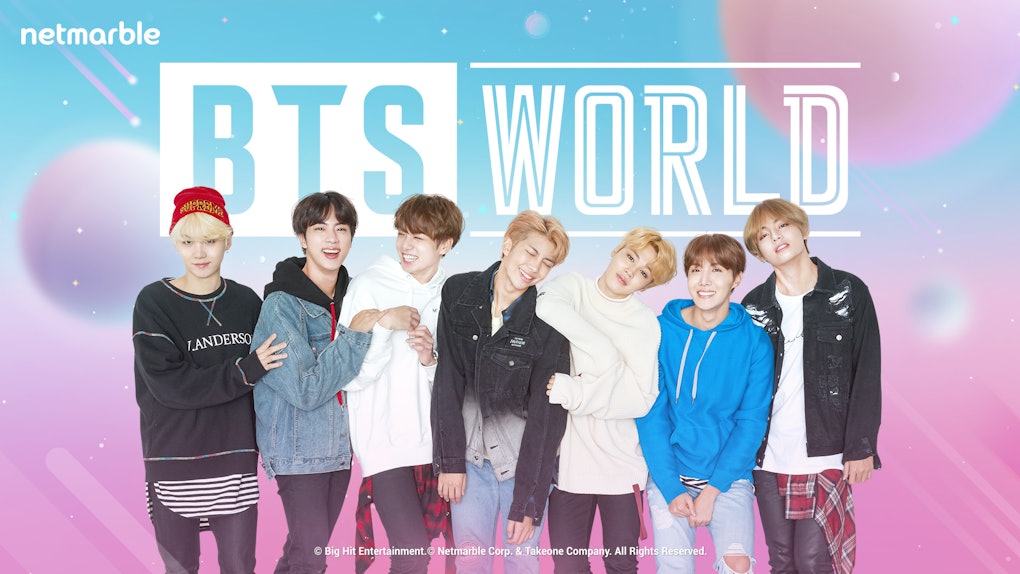 Developed by NetMarble, the game begins with the player being the main character (referred to as MC) attending a BTS concert that they won tickets for. As they make their way to the show, a rather strange occurrence takes place. Suddenly, MC notices how the 7 members of BTS that were printed on the ticket starts fading away.
Somehow, MC has traveled through time to the beginning of BTS, where they have not even crossed paths yet. However, being the only person who knows how the future will turn out for them, it is now up to MC to bring the boys together so that they can succeed as the BTS we know them today.
Sounds pretty cool, right? Without further ado, let's see what are the hits and misses of BTS World!
The "Visual Novel" style of the game
BTS World takes a familiar approach with their game, going for the visual novel route. With this style, players just have to tap at their screen and read the speech boxes that appear. Occasionally, there is the option of choosing what the MC would say, but that's about it for interaction in this game. Fans of this gaming style will find it rather easy to cruise through, as it's all technically about reading without involving much else.
2) It's an otome game
https://twitter.com/sugafizz/status/1144139183453118464?s=20
Many fans were not pleased about the type of game BTS World ended up to be, which is essentially an otome game. Similar to a dating simulator, otome games usually are wired in such a way that the MC has to choose which of the many male characters she would like to date. As the BTS ARMY is arguably one of the biggest fandoms in the world, it is rather unfair to stereotype the fandom of that size to just consists of straight, teen girls. Several fans took it to Twitter to express their disappointment about the game and their target audience, which overall ended up excluding their own fandom.
3. Tons of exclusive photos, video clips.
The amount of effort put into the game is evident in the tons of fanservice BTS World provides! To navigate through the game, players need to obtain Cards (Gem and Gold) in order to advance to the next chapters. As the game is divided into the visual novel component, it also has a different part where players need to use the cards in order to clear challenges. Each of the cards the players obtain all have each BTS members on them, which are exclusive, never-before-seen photos. Ranging from regular photos (where the members are dressed humbly in hoodies and comfort wear) to posh Blood Sweat Tears-esque levels of fancy; there is a form of satisfaction in collecting them alone. And if you're lucky, sometimes there's a special video in the chapters you play as well!
4. Not easy to achieve!
Like most games, everything comes with a price. As wonderful as all of these sound, clearing each level proves to be more challenging than perceived. The cards obtained all own a certain level of points (ranging from Empathy, Passion, Stamina, and Wisdom) and depending on what the challenge requires, players must make the best selection in order to advance. However the problem is that most of these levels are nearly impossible to clear, especially when the players start on Chapter 2 of the game. The only way to clear these stages is to wait for the daily Card draw, in hopes of getting a stronger card that may help you pass. Note the may, as this is a game of chance when it comes to draws! Alternatively, players could pay for more Gems to draw cards whenever, but it's still ultimately up to chance!
5. Lack of pronouns and problematic content

On top of the game being a dating simulator, fans were upset that the developers of the game automatically set the gender of the MC to female. Not only was it excluding non-female fans who were equally as excited about the game, but it even caused trauma for some transgender fans who were constantly misgendered in the game. As BTS has personally taken it to address how inclusive they are with their fans, it was rather unfair of the game developers to leave out such a huge part of what made the ARMY who they are today.
6. Complains of fans reached the developers' ears
OMGJSKDKSJD BTS WORLD ACTUALLY CHANGED THE PRONOUNS THEY ACTUALLY LISTENED TO US i just went and checked before and after updating and they made it gender-neutral like y'all speaking out about this kind of stuff really does make a difference@BTSW_official THANK YOUUUU #BTSWORLD pic.twitter.com/CxVTasGzXs

— ???? | https://umusicbrazil.lnk.to/Voices (@xYati25x) July 2, 2019
The good news, however, is that there has been change! After the first few days of the game release, ARMYs worldwide provided their feedback for the game in both the App Store and Play Store, which eventually reached the developers, NetMarble. After realizing their mistakes, an update for BTS World arrived a week after. This solved the issue of pronouns and a rather disturbing scene in the game between the MC and member Suga. Known by his real name in the game, Yunki comes across several 'photos' of MC by accident. Despite MC's obvious discomfort (even says 'please, my dignity'), Yunki replied with how he is 'backing up the photos', alluding to something more sinister and abusive. After an outrage of fans calling out NetMarble for this unacceptable portrayal of Suga, the scene now reads differently after the update.
Overall; BTS World is not perfect, but it is still rather impressive.
Despite the many shortcomings of the game, it is unfair to call BTS World a total flop. The game is still thoroughly entertaining, especially through MC's ridiculous antics that one can't help but laugh out loud at. The little details added into the game, such as a phone call from each member from time to time, actually simulates having a one on one conversation with the boys.
Asides from that, there is also a function to text the members and check on their social media postings (which sometimes, you yourself are posting!). All of these add to the immersion of the game, actually making the player get into the headspace of being BTS' manager. On top of the regular game, the mini-games built as well need to be taken into consideration of how truly entertaining it is. As a game, BTS World achieves its goal.
What do you think? ARMY or not, would you try out the game?
Follow us on Instagram, Facebook or Telegram for more updates and breaking news.