From Spanish-language comedy and romance flicks, to action and horror films – Netflix is awash with delightful películas and TV shows that you just can't go wrong with!
Spanish-language movies and series have always been a hit with global viewers, including those with little to no knowledge of the language (thank heavens for subtitles!). But over the last few years, their international popularity has skyrocketed thanks to a number of films receiving Oscar nominations or trophies; and their increased accessibility on streaming services like Netflix.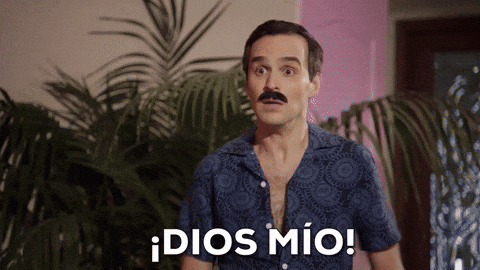 If you're looking for ways to brush up your Spanish, or simply want to enjoy a dose of Latinx entertainment, here's a list of movies and series currently available on Netflix that we amamos mucho and highly recommend!
Alma escapes a fatal bus crash that kills the majority of her classmates, but she has no memory of the incident or her background when she awakens in a hospital. Due to her amnesia and trauma, she also has night terrors and visions. Alma searches for her true identity as she tries to unravel the mystery surrounding the accident throughout the course of the series.
Three privileged young women from Mexico City named Roco, Vera, and Carlota set off on a journey to escape their everyday troubles. Their vacation turns into an extraordinary journey that takes them further from home but closer to themselves when they run upon Marcela, who is equipped with a gun and forces them to reverse course.
A little Texas girl with enormous hopes becomes the Queen of Tejano music in the TV series Selena, which is about Mexican cultural legends. Even though the show isn't entirely in Spanish, there are a few parts that reference Selena's Mexican heritage and upbringing.
Welcome to Las Encinas, the school for Spain's upcoming "it kids". But when a student is brutally murdered, the entire school becomes the ultimate crime scene as the pupils struggle to identify the perpetrator. Will they discover the truth?
After a hacker exposes a student's major secret, Colegio Nacional students quickly learn that the hacker is going through the student body and revealing everyone's secrets. Before their identity is disclosed, one student sets out to identify the hacker.
Introducing the de la Moras. Contrary to appearances, nothing in their upper-class existence is as perfect as it appears to be. The clan returns to their previous home, Casa de las Flores, for one reason only: to carry out Delia's final wish of exacting revenge. Even if Paulina and Virginia deny having memories of a traumatic incident, going back in time is necessary to bring justice.
An ordinary jail transfer involving a few experienced convicts rapidly turns chaotic. The armoured truck and everyone aboard must thereafter be protected from an invading outside force, and police officer Martin (Javier Gutierrez) is tasked with the job.
But who is the enigmatic man standing outside the truck? He is after which prisoner, and why? This movie is not for the weak of heart because it is jam-packed with action and fairly graphic violent scenes!
If you detest your life, what would you do? What would happen if you lost your job and had to leave your expensive flat? Javier Muoz, a former advertising executive, starts stalking people. He's not just any stalker, but a stalker with an obsession to change his life completely, even at the price of everyone else. This tense thriller immerses you in the thoughts of a psychopath who poses as a devoted family man.
After breaking up with her boyfriend, Maria chooses to start a blog to help her move on. This Peruvian romantic comedy called "Soltera Codiciada" will make you smile, cry, yell at the TV, and everything in between. Watch the tale of how Maria learns to accept herself and navigates life. She will finally emerge from the tunnel with the help of her two closest friends and a tonne of internal struggle.
The film "The Tribe" features a corporate bigwig, a dancing cleaning lady, her hipster dance tribe, and an amnesia case. Fidel, a bigwig, makes an attempt at suicide. The effort fails, and he finds himself in the hospital. There, his biological mother chooses to take him home, where he will experience a life he has never known, see people he has never met, and be treated like a member of the dance group.
A touching tale about the love of a mother and the women who stand by her. Carmen travels from Spain to Vietnam with her closest friends when her daughter passes away. Their objective? To search for the child her daughter was planning to adopt. The women must navigate this unfamiliar land, contend with cultural differences, and communicate in a location where another language is spoken.
The idea of this tale about Pedro Infante, a real-life star of Mexican cinema, is that he is granted a second chance to atone for his actions on earth. It's a romantic comedy with a dash of drama – one of those flicks with something for everyone! This movie gives you the feeling you're actually watching the actor on stage because the his character is so expertly preserved.
The beautiful slice-of-life story in this movie touches viewers' emotions. There will inevitably be some shared interests when a writer and a book lover cross paths. The main characters share that dynamic, but what they don't say about their circumstances and selves could sabotage this tentative relationship. There are numerous cultural allusions throughout the discourse. All of these facets of Spanish culture and art history – books, authors, and artwork – are frequently mentioned.
An insomniac frequently hangs out with the clerk at a 24-hour minimart in this amusing, intelligent movie. A veterinarian who is expecting eventually joins them. Together, they spend their evenings in the minimart as a little diversion from their regular schedules.
They pass their time jokingly playing games, getting to know one another, and discussing their hopes and concerns – activities that are all too familiar to young adults attempting to navigate the world.
While Ares is pursuing his studies in Stockholm, he and Raquel continue their long-distance relationship. When they reunite, they discover that their separation has tested their love. Will their love win the day?
A convent is used to house two orphaned twins, where they are given a strict education. The twins are shortly adopted by a young couple, but the family is soon upended by the children's religious preoccupation.
You always do insane things out of love. Before he succumbs to Alzheimer's, Emilio, his daughter Julia, and his granddaughter Blanca set out on a wild quest to reunite with the love of his childhood.
Mirage tells the story of a woman who, when a storm is raging, encounters a strange occurrence and perhaps saves a child. Vera, a single mother, communicates with the child's ghost and spares his life. Her actions, however, lead to a space-time continuum defect that changes reality. There are multiple levels to the plot, and it ends with a twist. Of course, if you want to know what happens, you'll have to see for yourself!
As her due date approaches, a pregnant woman becomes more unpredictable and isolates herself from her husband. After the baby is born, she becomes even more overbearing and obsessed, driving her husband to act in a desperate manner.
A master of deception and guile teaches a trio of young, aspiring thieves what it takes to be good pickpockets. Will they go down in history as the greatest thieves?
This horror movie, which is set in 1991 Madrid, follows teenagers Veronica and Rosa and Diana as they take a vacation from caring for their younger siblings to host a séance in an effort to get in touch with Veronica's deceased boyfriend, who perished in a motorbike accident. However, they accidentally communicate with Veronica's deceased father when they use a Ouija board.
With the help of a ranger and a pod of wild orcas, a mother takes her autistic son to Patagonia in the hopes that he will develop emotional connections.
Think of Gossip Girl, but instead of just one individual terrorising the students, it's a hidden club. The first-year musical aspirations of Elite Way High students are threatened when the school year begins with a covert organisation known as the Lodge.
Follow us on Instagram, Facebook or Telegram for more updates and breaking news.