Forget salons – how about lightening your hair with stuff you can find in your own kitchen?
A decent colour adjustment or colour-do makes us all swoon – but maintaining it requires A LOT of work. No matter what products you use, you'll still have to make regular trips to your colourist, use more sophisticated haircare products, and suffer at least some hair damage. But there's a way to get lighter hair without having to pay for expensive products – or even leave your house!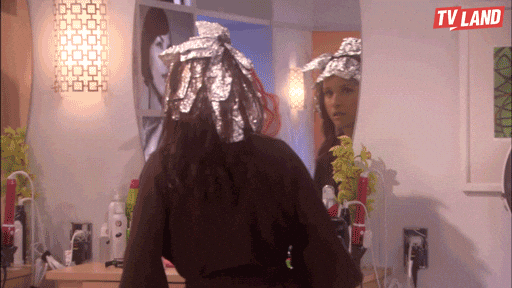 There are a few natural items in your home you can use to lighten hair. You must understand that the techniques involved won't your lighten hair as well as bleach would, but they may still produce the desired outcome. Since lightening hair requires opening up the hair shaft and lifting the present shade out, it makes the process more difficult than simply purchasing an over-the-counter box colour. But it's still possible, after a repeated procedure, of course. So here is a list of natural, bleach-free ways you can lighten your hair at home.
Lemon Juice
You've probably heard of people in the '70s using lemon juice on their hair and lying out under the sun. The method is, in fact, effective – even today. Lemon juice's acidity enables it to lift colour by altering the pH levels of the hair, but for optimal effect, it still requires a boost of heat. To create the appearance of natural highlights, squeeze some lemon juice into a spray bottle and mist the hair. Allow the hair to air dry in the sun. Typically, only lighter hair tones respond well to this treatment. Also, avoid getting any lemon juice on your skin because it might burn if exposed to the sun.
Another way to do this is by mixing lemon juice with your conditioner. Grab a spray bottle, fill it with lemon juice and add in your conditioner. Give it a good shake and spray it on, either evenly across your entire head of hair or just where you want to bring out the colour.
ACV
Apple Cider Vinegar, an all-round haircare solution winner!
Apple cider vinegar not only softly lightens hair, it also eliminates oil and residue buildup in your hair and on your scalp, encouraging growth. It also detangles and controls frizz. Combine six parts water with one part apple cider vinegar, and just spritz it or pour the mixture over your head to let it absorb. You can rinse it off after 30 minutes. You'll see visible changes when repeating the procedure. You can do this up to twice a week without worrying about drying out, or harming your hair because apple cider vinegar is quite gentle.
Cinnamon/Olive Oil + Honey
This is a naturally-scented method for lightening hair. There is enchantment in the combination of honey and cinnamon. Honey's hydrogen peroxide traces are brought to life when mixed with cinnamon. If you have light brown hair, this results in a chemical reaction that changes the tint of your hair by one or two shades.
For a hydrating mask, combine two tablespoons of raw honey, one tablespoon of cinnamon, and one tablespoon of olive oil. If it's too thick, add a little conditioner after combining everything. After that, leave the mixture for 30 minutes to allow the honey and cinnamon to combine and the hydrogen peroxide to work. Then, apply the concoction to your hair, bun it, and cover it with a shower cap, keeping it on for at least four hours. The longer you can let it sit, the better. So, overnight works as well.
Chamomile Tea
Sift through your tea bags and select your preferred chamomile brew if you have really dark hair and want to naturally lighten it and give it more of a golden hue. Steep a chamomile tea bag in a large mug of boiling water for 10 minutes. Once cooled, pour the tea over clean hair and let the hair strands soak overnight. Rinse and repeat when necessary. Since chamomile is one of the mildest essential oils, you can use it on coloured hair without worrying about it turning brassy. The substance also has anti-dandruff qualities. You can also add some honey along with your chamomile tea.
Vodka
This one functions as both a cocktail and a hair treatment. Spray it on strands while lounging in the sun by combining one part vodka to two parts seltzer in a spray bottle. Vodka's bright blue undertones will remove whatever brassiness you may have, and the combination of the scorching sun and alcohol will lighten the pigment in your hair. This is the best approach to naturally lighten hair. We're not sure if it really works, but back in 2014, model Eva Herzigova said she used this beauty tip for her hair.
Sea Salt
One popular and easy method for naturally lightening hair is using sea salt. It also lightens natural bases and brightens already lightened hair. You can soak your hair in sea salt water and let the sun dry it naturally. If there isn't a beach nearby, you can also simply combine one tablespoon of sea salt with half a cup of warm water and leave it on for ten to twenty minutes.
Follow us on Instagram, Facebook or Telegram for more updates and breaking news.