2018 was a fantastic year for Chinese dramas. "Story of Yanxi Palace", for example, not only gave us strong female leads, the story plot was unpredictable and it left us wanting more.
The good news, 2019 is already looking promising with more period dramas, thrilling and romantic series from our favourite Chinese stars. Trust us, you'll want to be in-the-know when these series debut on the small screen. Here are 7 shows that should be on your radar:
1. "Beautiful Reborn Flower" (彼岸花)
Synopsis: Based on the novel of the same name by Chinese author Anne Baby (Anni Baobei), "Beautiful Reborn Flower" revolves around a pair of twin sisters who were separated at birth, Qiao Man and Nan Sheng; and their respective love stories with Lin Heping.
Genre: Romance, Fantasy
Episodes: 60
Starring: Lin Yun, Song Wei Long, Peter Ho, Li Xin Ai, Xie Bin Bin, Guo Le
2. "Go Go Squid!" (蜜汁炖鱿鱼)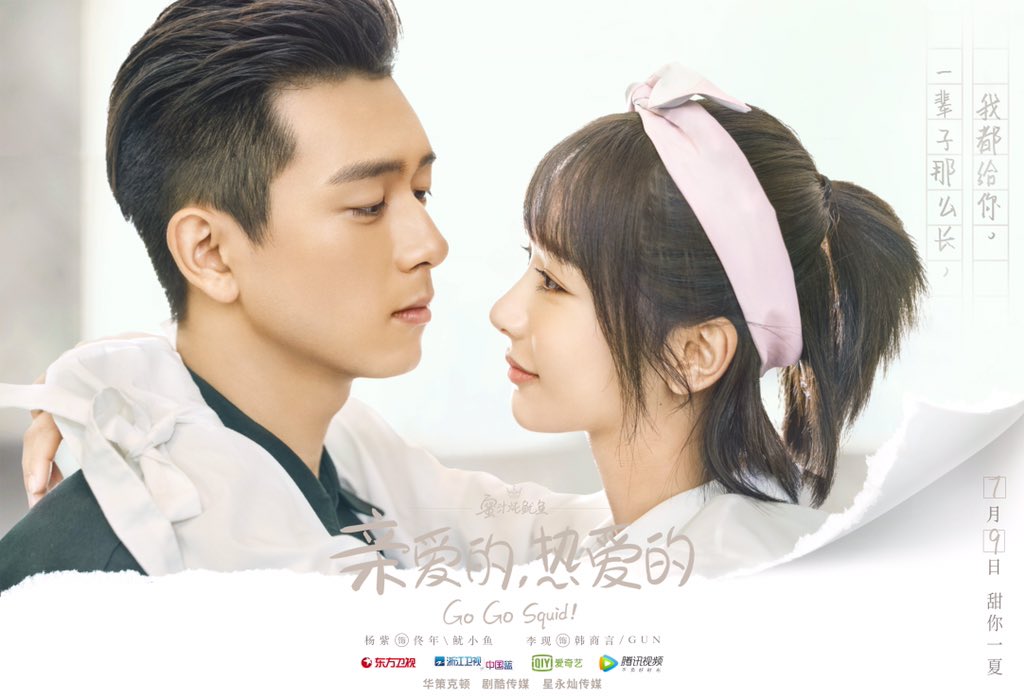 Synopsis: Also known as "Stewed Squid with Honey", "Go Go Squid!" revolves an adorable 19-year-old student/singer with high IQ but low EQ. She develops a huge crush on a guy who is a genius in the field of computer engineering and a legend in the world of professional gaming.
Genre: Romance
Episodes: 44
Starring: Yang Zi, Li Xian, Hu Yi Tian, Li Hong Qi, Li Ze Feng, Wen Yi Fan
3. "The World Owes Me A First Love" (世界欠我一个初恋)
Synopsis: A story about first love and romances from the perspective of three couples in the workplace. It follows an independent young woman brimming with potential who crosses paths with a black-bellied boss.
Genre: Romance
Episodes: 24
Starring: Xing Zhao Lin, Bai Lu, Zhai Zilu, Chen Haolan, Huang Jidong, Liu Ruoyan
4. "Le Coup de Foudre" (我不喜欢)
Synopsis: "Le Coup de Foudre" is based on the author (Qiao Yi)'s own story. Zhao Qiao Yi and Yan Mo are classmates in high school. One is a bad student while the other is a top student. They make a promise on the day before graduation to go study abroad together. But due to an unforeseen incident in Qiao Yi's family, she couldn't keep her promise and the duo lost contact. 4 years later, they meet again at their first class reunion.
Genre: Romance
Episodes: 35
Starring: Janice Wu, Zhang Yu Jian, Yan Mo, Zhao Zhi Wei
5. "Monarch Industry" (帝凰业)
Synopsis: "Monarch Industry" will mark Zhang Ziyi's first drama in a television series. She stars as Wang Xuan, the daughter of an important noble forced to marry a general. Though their relationship was built on a political battle for power, the couple grow to trust and admire each other.
Genre: Period Drama
Episodes: 80
Starring: Zhang Ziyi, Zhou Yiwei, Tony Yang, Shi Ke, Zuo Xiaoqing, Guo Jiaming, Yu Hewei
6. "The Love of Hypnosis" (南烟斋笔录)
Synopsis: Story revolves around Lu Mansheng, a mysterious woman who sells scents at Southern Mist House/ Nanyan Studio. These scents have the supernatural ability to heal her clients' broken hearts, or at the very least help them come to terms with what has happened. She will cross paths with Ye Shen, a patriotic young man who also seems to have some sort of supernatural power.
Genre: Fantasy
Episodes: 40
Starring: Crystal Liu Yifei, Jing Bo Ran, Wei Daxun, Liu Min Tao, Zhao Lixin
7. "My True Friend" (我的真朋友)
Synopsis: Story revolves around real estate agents and how through every single property, they bear witness to the joys and sadness surrounding different families. Cheng Zhen Zhen is a straightforward person who wears her heart on her sleeves. Together with Shao Peng Cheng, a young man who hides his real identity as the only son of the company president, they apply to work at "Love and Family" as entry-level associates. They get assigned to be each other's partner and through their job, they learn many things about life and love.
Genres: Romance, Drama
Episodes: 46
Starring: Angelababy, Deng Lun, Zhu Yi Long, Daniela Bessia
Sources: My Drama List, Gossip Yang.
Follow us on Instagram, Facebook or Telegram for more updates and breaking news.