For Matthew Vaughn's 2nd act, the director managed to amped up the star power with Hollywood A-listers such as Julianne Moore, Channing Tatum, Halle Berry, Jeff Bridges, Pedro Pascal, and Elton John.
The central focus of "Kingsman: The Golden Circle" was still on the dynamic duo of Taron Egerton (Eggsy) and Colin Firth (Harry Hart). Sadly, Tatum's Tequila was missing during a huge chunk of the movie, leaving fans disappointed.
When Tatum was first attached to the project, the 37-year-old actor teased that the choice of weapon for his country character was a deadly lasso. As you've seen in the film, the lasso was given to Pascal's character Whiskey instead. Moviegoers got to see Tequila fight against Eggsy and Harry, but never with them.
Since Tequila was put on ice after becoming a victim of Poppy's toxic drugs, he remained frozen in a science lab. Pascal, on the other hand, had more screen time as the surprised villain that double-cross the rest of the Kingsmen. Not to take anything away from Pascal's exceptional performance, but it was bummer we didn't get to see more of Tatum in action.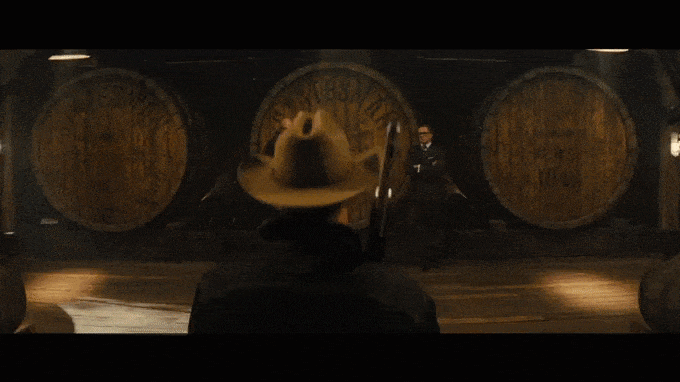 In speaking with The Hollywood Reporter, Egerton confirmed that there was indeed a change in the script that resulted in Tatum's smaller role for the sequel. "There was a shift of sorts. There was some changing because of Channing's schedule. The thing is that the script is constantly in flux," the handsome Brit told the publication.
Screen Rant reported that the scheduling conflict may be due to Tatum's involvement in Steven Sodenberg's "Logan Lucky", also starring Adam Driver and Daniel Craig. Fret not though, Tequila was seen strutting down the streets of London towards the new Kingsman shop at the end of the film. This hints that he'll have a bigger role in "Kingsman 3".
Feel free to check out our fun facts article on "Kingsman: The Golden Circle" here.
The "Kingsman" sequel is in cinemas now.
Sources: Screen Rant, The Hollywood Reporter/ Featured image: 20th Century Fox.