This time next year, "life finds a way".
That's the tagline taken from the "Jurassic World 2". Last night (Thursday, 22nd June), not only was official title for the sequel revealed, but a brand new poster was also released. Dinosaur fans, get ready for "Jurassic World: Fallen Kingdom".
In one year, life finds a way. pic.twitter.com/32Cu62xn1Y

— Jurassic World (@JurassicWorld) June 22, 2017
We have no idea what "Fallen Kingdom" implies though. Is it suggesting that dinosaurs were once regarded as royalty? Or perhaps it's a reference to the park that was destroyed after the events from the first movie? We're still far away from figuring out how this kingdom fell.
However, there has been several teasers about the sequel's plot from various people. Back in March, a first look was unveiled, featuring a young girl named Lucy staring at a bunch of dinosaur skeletons in what appears to be a museum. The following month, director Colin Trevorrow tweeted a photo of dino-eggs without giving away any clues.
Although the project has been kept under wraps, the producers really want fans to know that Jeff Goldblum is coming back. He will be reprising his role as Dr. Ian Malcolm. Interestingly, the tagline for "Jurassic World: Fallen Kingdom" is a callback from the original "Jurassic Park".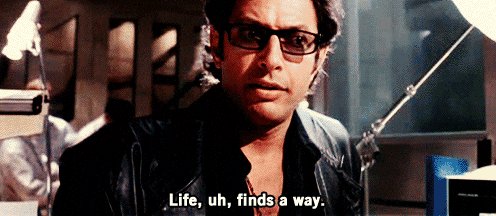 "Jurassic World: Fallen Kingdom" will hit cinemas on 22nd June 2018.
Sources: /Film, The Verge, Entertainment Weekly.
Follow us on Instagram, Facebook or Telegram for more updates and breaking news.