When Sony first announced that they were working on yet another version of "Spider-Man", we were skeptical. But when British rising star Tom Holland made his cinematic debut as Spider-Man in last year's "Captain America: Civil War", our faith was restored.
It was only natural for Sony to team up with Marvel on their first full film collaboration with "Spider-Man: Homecoming". This time around, we're seeing Peter Parker as an active yet inexperienced superhero-in-training, juggling high school while being mentored by Tony Stark.
The official synopsis is as follows:
"A young Peter Parker/Spider-Man begins to navigate his newfound identity as the web-slinging super hero in "Spider-Man: Homecoming." Thrilled by his experience with the Avengers, Parker returns home, where he lives with his Aunt May, under the watchful eye of his new mentor Iron Man. Parker tries to fall back into his normal daily routine – distracted by thoughts of proving himself to be more than just your friendly neighbourhood Spider-Man – but when the Vulture emerges as a new villain, everything that Peter holds most important will be threatened."
Oh, but there's more: Everything from details about the new cast to villain knowledge and Spider-Man's sick new suit. Scroll down and check out the facts on everything "Spider-Man". We've got loads of 'em.
1. Tom Holland is the youngest Spider-Man yet
Since youth is an integral part of "Spider-Man: Homecoming", audiences will get to see Peter Parker in all of his awkward, nerdy, angsty glory. Following the events of "Civil War", Parker is not only discovering the limits of his powers, but also the pressures of balancing life as a high school kid and being a superhero.
"We've seen the sort of Norse god, we've seen the billionaire, we've seen the soldier, now we get to see the kid. And one of the most important themes of the movie is, what would a 15-year-old boy do with superpowers? So, sort of opening act to the movie, you see Peter really trying to discover who he is, what he can do, which is something I feel like we haven't really explored massively in the previous movies — is seeing Peter make mistakes and try and rectify them and try and learn exactly what he can do," explained Holland.
2. How Tom Holland found out he was Spider-Man
When casting for Spider-Man in "Captain America: Civil War" was announced, nobody was more surprised by the news than Holland himself. In speaking with Ellen DeGeneres, the young English actor recalled how he found out he had been cast.
He said, "I basically had been auditioning for about 5 months and after my final audition they said, 'You'll find out tomorrow.' Fast forward 6 weeks I was still waiting, still waiting, then one day Marvel just posted on their Instagram, 'Go to our website to find out who Spider-Man is.' And that's it, I just found out online!"
Talk about getting with the times. Lol ;)
3. Tony Stark/Iron Man's role in "Homecoming"
Ever since it was confirmed that Robert Downey Jr. will be reprising his role as Tony Stark/Iron Man in Spider-Man's solo adventure, fans have been wondering just how significant will his role be. We noticed at least 3 distinct scenes featuring both Tony Stark and Iron Man in the trailer.
So why is Iron Man's role vital?
Not only will Stark serve as a mentor to Parker, but this is the first "Spider-Man" solo movie where we'll get to see our protagonist working alongside other heroes. "To have Tony Stark in the movie is like the perfect touch, the perfect amount of Avenger to make this movie really feel like a homecoming to the Marvel Cinematic Universe," said Holland.
4. Spider-Man's new Stark suit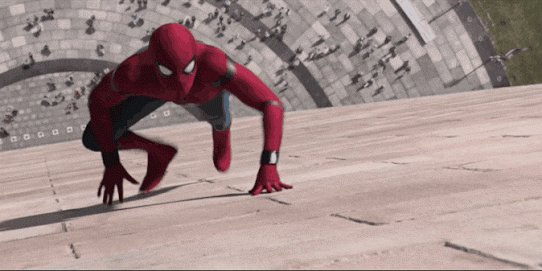 Besides the aforementioned, Stark is also Spidey's tech supplier. As shown during the post credit scene in "Civil War", Parker was trying out the new high-tech suit built by Stark. During his appearance at last year's San Diego Comic Con, director Jon Watt teased, "Well, the suit that spidey was given in 'Civil War' is a Stark suit, so you have to wonder with a Stark suit, what else can it do?"
Writer Marc N. Kleinhenz suggests that the most obvious piece of tech Marvel Studios can come up with is the Spider-Tracer, which allows the web crawler to follow his targets by using tiny tracking devices. Other possible perks may include "bulletproofing, a mask that can allow Peter to breathe underwater, the ability to hover or glide, and additional robotic "spider-arms," which can be utilised in combat or in exploration".
5. Uncle Ben will be basically nonexistent
"With great power comes great responsibility" – those famous words were uttered by Uncle Ben. Thankfully, we won't have to see yet another version of his tragic death. "They talk about that, absolutely. It's not… it's not a huge thing that I want to go into too much, but there is an acknowledgment that there was a Ben," said the filmmaker.
6. Peter Parker has a new love interest and it isn't Mary Jane or Gwen Stacy
When Zendaya first joined the cast, many thought that she'll be playing a black Mary Jane Watson. After revealing that her character's name is Michelle, Zendaya squashed rumours that she'll be Parker's onscreen girlfriend. According to Latino Review, Liz Allan (played by Laura Harrier) will be the girl that Peter Parker is interested in.
Liz Allan may not be as popular as Mary Jane Watson and Gwen Stacey in the list of Spider-Man's love interests, but she came before them in the earlier comic book series. As per Spidey lore, Peter had the hots for Liz, who was dating schoolyard bully Flash Thompson at the time.
7. The big bad is The Vulture
Although we've seen 5 live-action "Spider-Man" films on the big screen, they have barely scratch the surface of Spidey's rogues gallery. This is why we're stoked that "Homecoming" will be introducing a new villain named Adrian Toomes, a high tech-flying thief better known as The Vulture (played by Michael Keaton).
Betrayed by his sly business partner, the disgruntled inventor and electrical engineer resorts to taking up a life of crime. As one of the web-crawler's oldest foes in the comics, The Vulture often dons his specially designed flight harness and terrorise the people of New York.
8. But wait, there are 2 more villains
Word on the street has it that "The Vulture will be aided by none other than The Tinkerer (played by Michael Chernus), who will help him build his suit with recovered Chitauri tech from the battle of New York". He's a terrible genius that uses his skills in advanced technology to aid other supervillians.
Bokeem Woodbine rounds up the rooster as the 3rd villain, playing The Shocker. The character is known to wear gauntlets that can project devastating vibrational waves of energy.
9. The "Spider-Man: Homecoming" soundtrack is full of puns
Who's ready for your friendly neighborhood you-know-who?@SpiderManMovie @MarvelStudios pic.twitter.com/iSHk4IvVgk

— Michael Giacchino (@m_giacchino) May 19, 2017
Earlier last month, acclaimed composer Michael Giacchino gave fans a sneak peek at the classic Spider-Man theme song. A few days ago, the full tracklist was revealed, giving us an idea of how the story will flow. We like that the OST titles are filled with puns; it reads like something Peter Parker would say ;)
Take a look at 'em:
"Spider-Man Television Theme"
"The World is Changing"
"Academic Decommitment"
"High Tech Heist"
"On a Ned-To-Know Basis"
"Drag Racing / An Old Van Rundown"
"Webbed Surveillance"
"No Vault of His Own"
"Monumental Meltdown"
"The Baby Monitor Protocol"
"A Boatload of Trouble Part 1"
"A Boatload of Trouble Part 2"
"Ferry Dust Up"
"Stark Raving Mad"
"Pop Vulture"
"Bussed a Move"
"Lift Off"
"Fly-By-Night Operation"
"Vulture Clash"
"A Stark Contrast"
"No Frills Proto COOL!"
"Spider-Man: Homecoming Suite"
10. Spider-Man's ultimate goal is to be an Avenger
One of the major difference that sets this Spider-Man apart from previous incarnations is that the existence of The Avengers has given him a significant goal in becoming a full-time superhero.
"I think the difference now is that Peter Parker finally has an all-time goal, and his goal is to become an Avenger. Everything he does, even though he's doing it for the right reasons, is done so that maybe one day he can become an Avenger and prove himself to Tony Stark. And I think we've never really seen Spider-Man with that kind of motivation before," explained Holland.
With Spider-Man now included in the Marvel Cinematic Universe, not only does the web slinger get to interact with other colourful Marvel characters, it'll be interesting to see how he can graduate to the status of bonafide Avenger. The young hero will soon find himself called into action in next year's "Avengers: Infinity War".
In the meantime, here's the trailer to pump up your excitement:
"Spider-Man: Homecoming" is expected to swing into theatres on 7th July 2017.
Sources: Pop Sugar, Games Radar, Joblo, Bleeding Cool, Cinema Blend.
Follow us on Instagram, Facebook or Telegram for more updates and breaking news.