Not all of us are Instagram influencers who can list "photography" as one of their skills in their resumes. But if you want to up your picture-taking game, we've got a few tricks for you.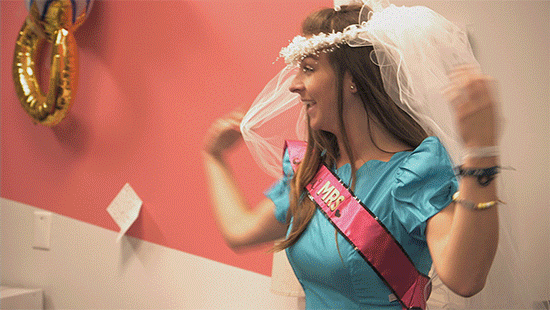 Along with bridal showers, bachelorette parties are among occasions that always deserve to be thoroughly documented. It's an important day, after all! Because of this, you'll want your entire team to pose like bosses throughout the celebration. But when you're in a big group, taking nice shots might be challenging, especially if your bridal party includes strangers.
There are only so many postures you can strike for a group photograph, especially when you barely know some of the posers. Fortunately, TikTokers are sharing their tips on how to pose appropriately for bachelorette party photos. So, say goodbye to basic, awkward stances and learn how to use these pose hacks to capture the perfect image of your special day:
Go For Props
When striking a pose, one query constantly arises: "What should I do with my hands?" Well, you can't go wrong with holding a prop. Hats, beverages, and other bachelorette-related items are some examples of props.
Stick To Your Jammies
Forget fancy dresses and heavy makeup. Go for something as simple as your jammies and trust us, it'll be a whole lot of fun.
Wear matching robes that are bright and pleasant colours for everyone. This will result in some fantastic photos, especially if you have a larger group, and will give the bride and her bridesmaids a uniform appearance. Additionally, it makes it simpler to locate your team if you're on a walking tour or hanging out on a rooftop terrace.
Face Inward
It's simple to remove the discomfort from a group photo if you want to take one with everyone, but don't feel comfortable standing shoulder to shoulder. Your body language will appear to indicate that you all "actually like each other" in this way. After all, your proximity will be captured on film.
Walk Towards The Camera
There are a few things you can do to capture the shot on your Bach weekend. To add visual appeal, linking arms and approaching the camera are simple techniques, and taking group photos of everyone smiling is a tried-and-true strategy that consistently produces positive results.
Heights
It's a fact that no matter the occasion, group shots always appear better with some height in the frame. If all you have are a few chairs nearby, choose a small group of people to sit while others stand behind to break up the space a little. Using a flight of steps is an inexpensive method to add height.
Candid
Sometimes, stances are overrated and time-consuming to complete. Why not be organic? Simple, frank suggestions include popping open a bottle of bubbly alcohol, toasting the bride, and dancing till the sun comes up. Not to mention, you probably already planned to do that anyway, so why not take some pictures while you're at it?
Follow us on Instagram, Facebook or Telegram for more updates and breaking news.