Dearest reader: do scroll on to see the glitziest clothing of the era.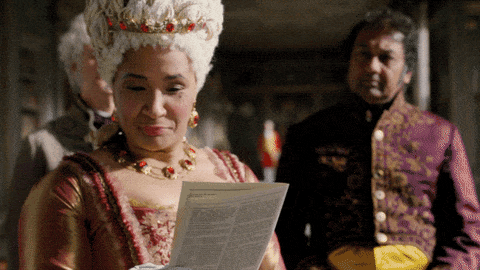 It makes sense that the Bridgerton prequel, Queen Charlotte: A Bridgerton Story, has the internet in a tizzy. From the stunning casting of the younger versions of the adored Bridgerton characters to the lavish attire, it seems that no detail was overlooked for this historical romance.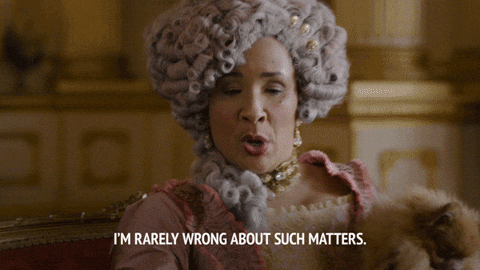 However, despite the romance, drama, and astounding scenes, we couldn't help but be mesmerized by the outfits in this series. Whether it's a wedding or casual ball, the affluent of the era seem to never miss an occasion for a fashionable moment. With only 6 episodes, Queen Charlotte: A Bridgerton Story, features opulent fabrics, glistening jewels, adorable small capes, and of course, corsets that steal the show. And we're here to spill the deets!
The Wedding Dress
It was clear at this point that Charlotte was destined to rule as queen. In a youthful bowed dress, she was just seconds ago seen considering her escape and getting ready to scale the royal wall. But her wedding gown reveals a more responsible side to her. Silver and gold are intertwined, and King George exudes elegance and wealth. Although some people could view the colour scheme as a reason to wear less jewellery, the queen doubles down and spares no sparkle from her cape to her crown.
King George: The Style Of The Aristocracy
With his appearance and the clothes he wore when playing King George III in Queen Charlotte: A Bridgerton Story, Corey Mylchreest left his followers in awe. His outfits, chosen by Lyn Elizabeth Paolo and Laura Frecon, are very regal. While creating the costumes, the designers kept contemporary aesthetics in mind and drew heavily from Dior. That waistcoat with the embroidery was exquisite.
Tourist-chic Adolphus
Perhaps not the most sensitive of the brothers is Adolphus. He can at least pull off exquisite clothes. Even if his visit to his sister didn't yield many answers, it did result in some incredible outfits, like this blue coat adorned with sparkling crystals.
Lady Danbury: Belle Of The Ton
We observed Lady Danbury wearing deep hues, striking accessories, and meticulous touches that made her clothes, in particular, so distinctively hers, throughout Bridgerton. We were pleasantly astonished to see that Lady Danbury has had this sense of elegance from the beginning in Queen Charlotte. This appearance was the ideal way to introduce the young Lady Danbury. The fashion sense was witty and playful, just like her. Her gold outfit served as a symbol of her maturity. It has a gentle, rich colour that is emphasised by the white floral pattern and lace cuffs. She was also able to display her fun side thanks to the bow at the neckline and the sparkling bodice that matched her jewellery.
Queen Charlotte's Honeymoon Look
Even though this was one of Queen Charlotte's most understated appearances, it was nevertheless stunning. A new bride's natural blush was highlighted by the muted pink, which went nicely with her delicate jewellery for a monochromatic look. The sleeves had beautiful and fun ruffles. The tweed accent on her gown, though, was the highlight of this ensemble. It was amazing to see how the designers managed to incorporate some modern ideas into the wardrobe despite the fact that it is a historical artefact.
Hues Of Blues
With a pastel blue outfit that includes a jacket with puffed sleeves and a matching fascinator, Queen Charlotte makes a good first impression in the opening episode of Queen Charlotte: A Bridgerton Story. A straightforward pendant necklace was used to style the appearance by costume designers Lyn Elizabeth Paolo and Laura Frecon. In keeping with the overall tone of the series, Episode 6 of Queen Charlotte features a second pastel-blue gown with silver accents. She completed the ensemble with a crown, matching earrings, bracelet, and necklace made of black crystals. She placed a feather hat to the back of her head as if the jewellery and clothing weren't already overt enough.
In Episode 3, Lady Danbury also chose a blue dress. The white gown with the blue embroidery looked lovely and graceful, like a porcelain vase. The deep blue colour also distinguished Lady Danbury from the rest, demonstrating her audacity and individuality.
Vintage Florals
In Episode 3, Queen Charlotte matched the cheery springtime setting by donning a yellow floral gown. She added a simple crystal jewellery set and a yellow flower that complemented the dress wonderfully.
Reds & Golds
A queen's wardrobe would be incomplete without a gold gown, and Queen Charlotte looked her finest in it when she made a stunning entrance to her coronation in Episode 3. She wore a gown made entirely of gold with gold embroidery. She accessorized the ensemble with a gold and red necklace set with crystals, which complemented her crown nicely.
Cotton Candy Pinks
Queen Charlotte was dressed in a cotton candy pink gown with a sparkling light upper layer, demonstrating that pink is unquestionably her colour. The Queen completed the ensemble with three diamond chains connected to a feather headpiece and silver jewellery with diamond accents.
In a moment in Episode 4 of her adult years, Queen Charlotte wore a different cotton candy-pink gown, jumping timelines as if nothing had changed. The dress had a pink underlayer with silver embellishments and a pink redingote over top. She completed the appearance with a set of crystal jewellery and matching cotton candy headpiece.
Follow us on Instagram, Facebook or Telegram for more updates and breaking news.