JJ Lin (林俊傑) has kept his promise by taking his shirt off.
Earlier on 6th April, the 38-year-old singer promised fans that he will go shirtless and show off his 6-pack abs if fans help him reach 50 million followings on Weibo (which is the Chinese version of Twitter).
He even gave fans a little tease on Instagram to entice them. The hype over his physic started even before the aforementioned concert in Suzhou, China. In the clip above, the singer posted a shirtless video of him shirtless at a basketball court but pixelated his abs when he turned to the camera.
Fast forward 3 weeks later, the handsome Singaporean Mandopop star wrote, "I heard that we amassed 50 million (followers). How could it be that fast? But it's okay, I will keep my promise since we have hit our target — I am a man of my words!"
Asia One reported that in just 3 hours since Lin uploaded the sexy 1-minute clip on his social media account, it garnered 1.4 million views! Many fans showered him with complements over his chiselled physique that he worked so hard for.
He seemed slightly embarrassed to be half naked in front of the camera as he moved to lift some weights. He clarified that he still wish for fans to focus on his music. With that, he promised another reward.  "I want to do something different if we reach 60 million followers – I will hold a charity fan concert," the entertainer added.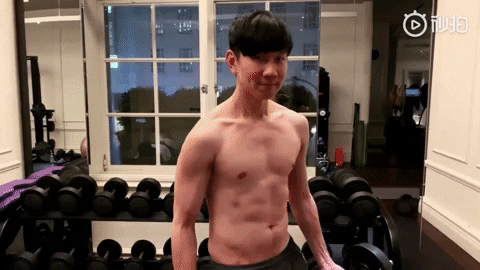 "It's such a pity that these abs are not used as a washing board," a fan commented. Another wrote, "I feel like a pervert for laughing while watching this video."
Source: Mothership.