23rd of March waltzed into our calendars fasted than any of us expected. However it may seem that Wannables were rather expectant of this particular date, as it marked South Korean pop star Ong Seong Wu's debut fan meeting in Malaysia. Organised by Hatchery, a Thailand based production and entertainment company, the ex Wanna One heartthrob was making his first solo appearance at Axiata Arena, for an estimated crowd of over 4,000 fans.
Seong Wu's fame exceeds borders it may seem, as the Malaysia show attracted fans from all over the world. With 800 fans coming from Thailand alone, it really brings perspective to how passionate K-pop fans are. A mix of American, Australian, Thai and of course, Malaysian fans were all gathered excitedly hours before doors were opened.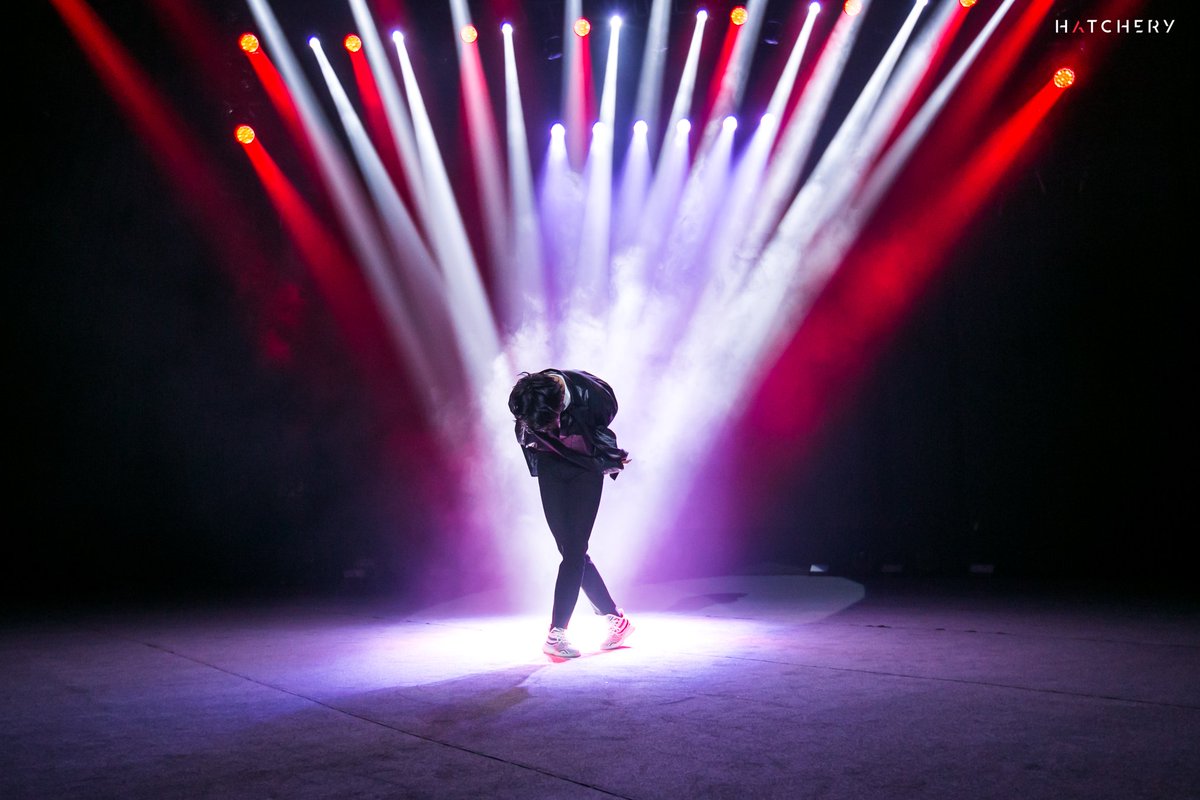 Walking into Axiata Arena in the pouring rain was an experience to say the least. Despite being sweaty and bothered—  there was audible Produce 101 songs blasting away on the speakers, filling up the spaces between vendors and fans bustling around to out bargain each other for a better deal on merchandise. Fans were ever chipper despite the weather; excitedly squealing about their favourite K-pop star and collecting freebies.
Being punctual as most K-pop events, the show started at 6pm. After all fans had taken their seats, the lights went out to play the introduction video. Then out came Ong Seong Wu; decked in double denim, complete with back-up dancers as Bruno Mars' "Treasure" started playing on the speakers. After a nice appetiser for the fans, Seong Wu ducked out behind the stage as the emcee came out to officially begin the night.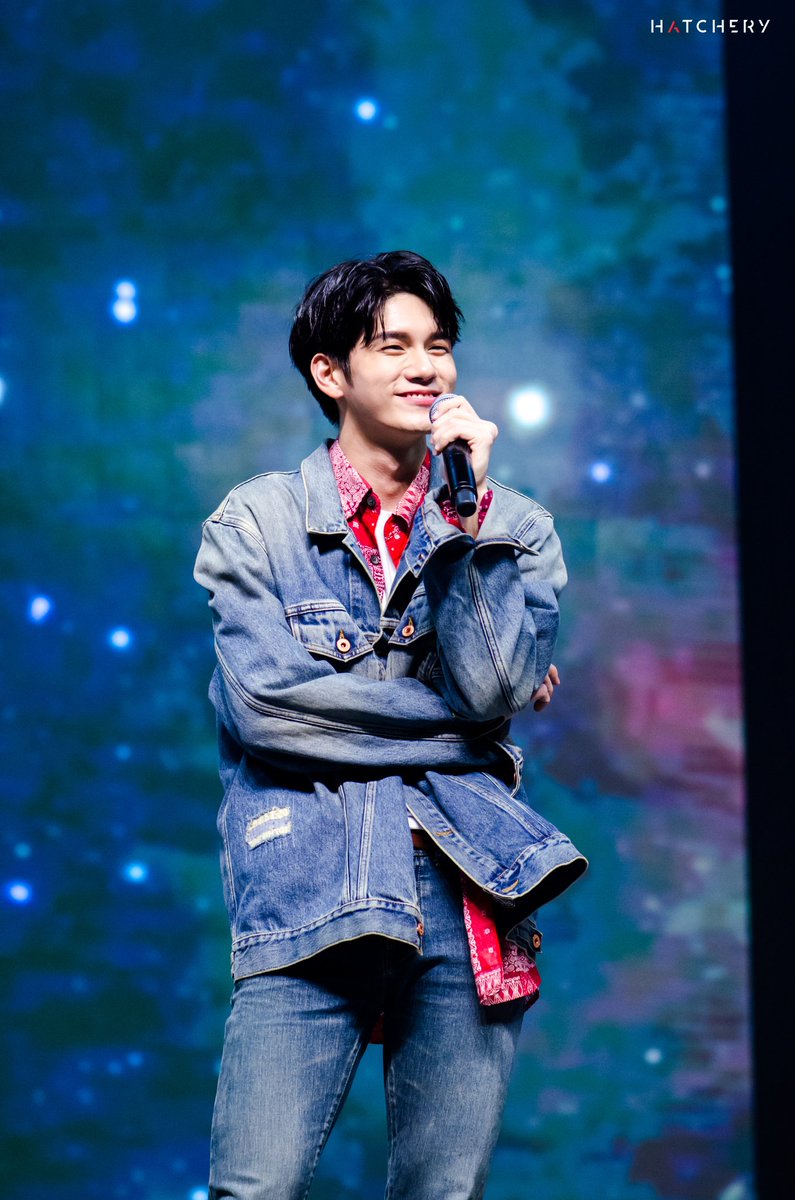 After hyping up the crowd, MC Hani finally brought out the star of the night; Ong Seong Wu himself. The ferocity of 4,000 fans screaming to greet him alone was enough to bring down the whole of Axiata Arena. Seong Wu could only sheepishly smile at their passion; half embarrassed, half proud. From the way they were cheering at every little thing he did, it was evident that he had them wrapped around his finger. He seemed a little shy at first, but slowly warmed up as the show progressed.
The first event of the night was a segment called "ONGTALK" which took place in the style of a talk show. With an app by the same name, Seongwoo and Hani glanced at the screen which showed a stream of questions that fans had asked prior to the event. Amongst the Q&A, Seong Wu also showed off his sick moves when a fan asked about his style of dancing – poppin'.
Then came the second session; "ONGSTAGRAM". Named after everyone's beloved app, Seong Wu took the stage to explain the meaning behind all his photos. Ranging from selfies, travel and even photography; Seong Wu was delighted to explain the context of his photographs. It was breathtaking to see his shots of Japan, capturing the essence of the beautiful country so aptly. Despite only recently dabbling in photography, Seong Wu's work showed that he was well versed with the concepts of depth and composition; making him even more impressive. A surprise in the form of a lucky draw was then announced; with five lucky fans winning autographed postcards of his photographs.
The third session was named "ONGPLAY", which was a music playing app. Fans erupted with screams the moment the words "Wanna One Medley" filled the screen and Seong Wu knew that was his cue. Dancing to a mix of the iconic "Energetic", the firecracker "Burn It Up", the easy sing-a-long "Beautiful" and the sultry "Day by Day"— which included a rather interesting dance move.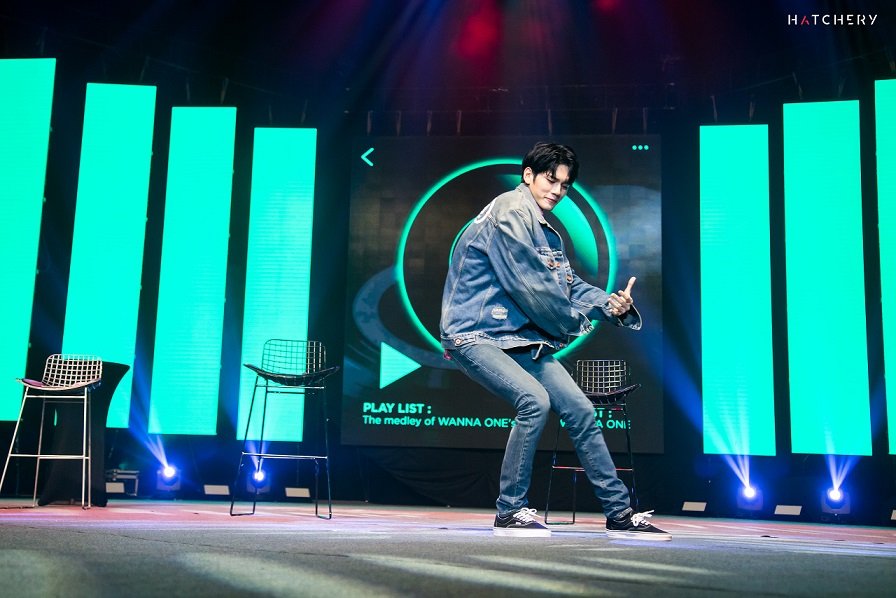 After leaving fans breathless and dizzy, the lights dimmed for him to take a breather as fans were treated to a VCR of Seong Wu during one of his shoots. When the lights came back on, out stepped the singer in a tweed suit as he raised the mic to sing a soulful, dramatic ballad. "Please" was not an easy number to perform, considering the amount of emotion that required being poured into it but he managed to sail through it without any hiccups.
With the end of the song came the start of the next session; an interactive segment titled "I Will Catch A Star For You". This included a session that tested Seong Wu's skills with a claw machine, where he had to try his best to win plushies like one would in an arcade. Being ever the entertainer, he dramatically posed against the glass of the machine and said in a low voice, "I'll catch it for you", which sent the crowd into a frenzy.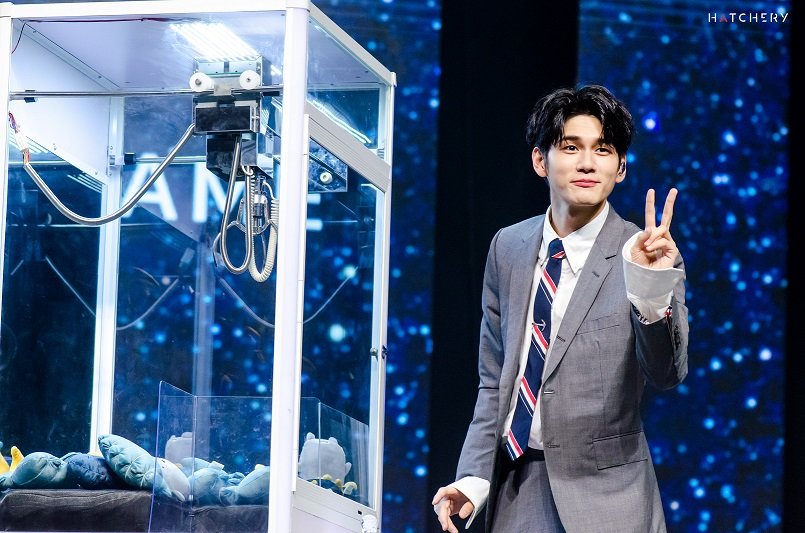 The first round was successful for him but Lady Luck seemed to have only shined once on him, as Seongwoo struggled for the next few rounds. When he finally won another plush, the arena burst into cheers almost as loud as football stadium would have. Even though this win gave him the confidence he needed for the final countdown, Seong Wu came close but missed. Regardless, it was still a win for fans as not only did Seong Wu autograph the plushies but even gave them each a kiss before giving them up as lucky draw prizes!
With the reveal of Seong Wu's favourite coffee being caramel macchiato, the next game had begun. "What's In The Coffee?" included a spread of 5 mason jars, all filled with a mysterious liquid in them that seemingly resembled coffee— or did it? Seong Wu's task was to guess which one was the real caramel macchiato but the twist was that he could only do so by tasting it… and keeping a straight face for seven seconds. Naturally, Seong Wu jumped at the challenge— claiming that he was an expert at it. After selecting one of the drinks, he took a long sip but failed to maintain a poker face for the duration necessary. He then noted that the sip of coffee reminded him of the sea— which gives us an inkling of how horrendously salty it must have been. However even though he failed at the challenge, fans still received gifts via the lucky draw.
The lucky draw itself felt like a segment of its own, as Seong Wu kept on drawing lots for the "Mango" section of the arena. Every time he broke into a smile when glancing at the drawn lot, the crowd already knew what he drew. His adorable pronunciation of "Lychee" also earned an array of "awww"s from the fans.
Next, fans had to teach him a Malaysian song — which would wrap up the "Catch A Star" segment. Every Malaysians' childhood memories came alive as the crowd sang along to  "Rasa Sayang", letting Seong Wu get familiar with the tune and lyrics of the original classic. Seongwoo however, struggled to grasp the melody and tune of the song but eventually after several tries managed to successfully sing it.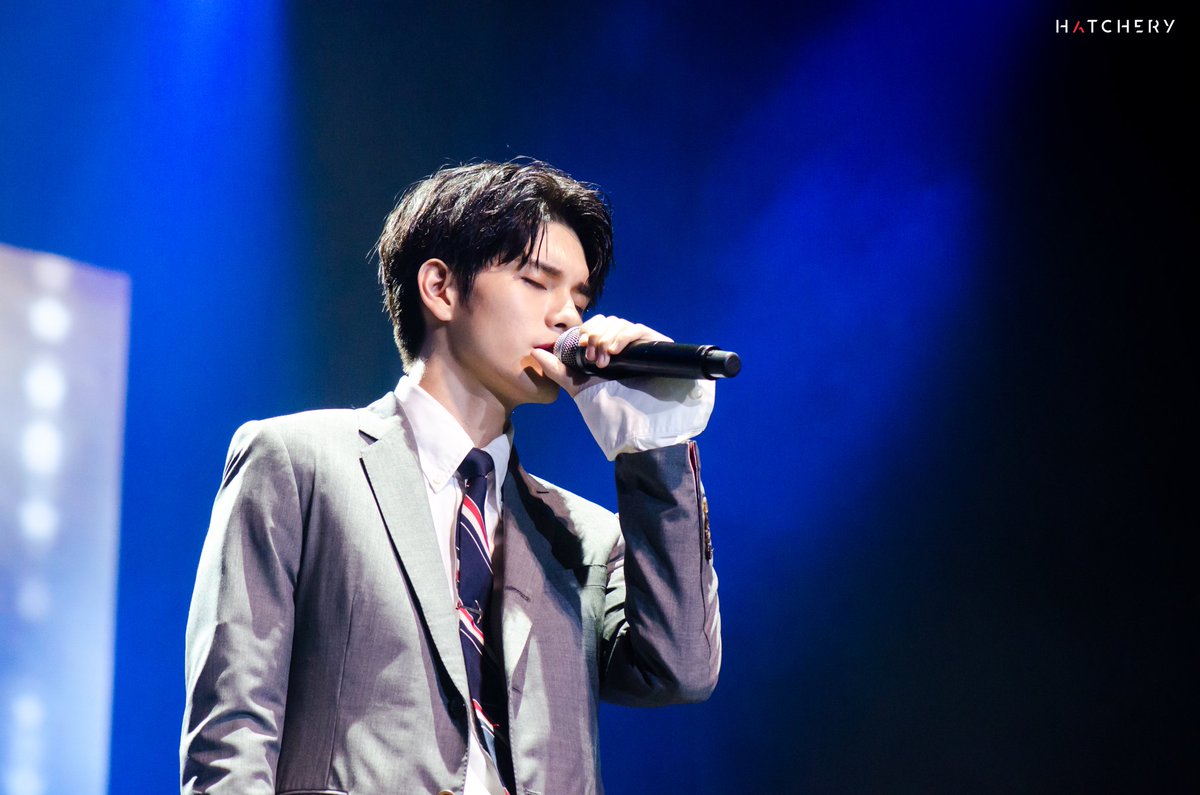 With the end of that segment, Seong Wu was told that fans had prepared a special video for him. The lights in the arena were dimmed, and Seong Wu turned around to face the massive screens. A video that included clips of the pop star from his fresh Produce 101 days all the way up to his current ventures played, making everyone there extremely emotional. However a lovely twist came in the form of the video asking him to turn around and face the fans, where the whole arena was holding up hand banners with a warm message.
Seong Wu was shaking with gratitude and was stumped by the effort fans put into him. "I will walk the flowery road and become a beautiful flower— like you guys," he said with a huge smile. He then mentioned how that this event reminded him of a time when he took a walk and discovered a patch of flowers. In that moment, he was reminded of all his struggles in life and how despite it all, he learnt to appreciate how precious they were. And it was the faces of the fans today that reminded him of those flowers.
"Obstacles became the foundation for me to walk on the flowery path," said Seong Wu, "There will be bad days but a flower needs rain and shine to grow. To me, you all will always be flowers in full bloom."
With that, the arena turned dark and there was a sea of lightsticks that lit up the place instead. Seong Wu came out and started to sing "Love This Moment", the perfect ballad to wrap up the show. In contrast to the dramatic number previously, this emotional, acoustic ballad seemed more of his strong suit. Seong Wu truly glows best when he's performing songs that are close to his heart. His eyes were shining as he sang about his youth, and being alive in the moment.
After a closing video, there were shouts of "encore!" from fans that were met with a long awaited dance number. Out came the back up dancers once more, as Bruno Mars' "That's What I Like" poured out of the speakers. Fans were wolf whistling at how sleek and sexy Seong Wu was, effortlessly moving along to the song like it was his second skin. And with that, the fan meeting was over.
However fans weren't as upset, since this just meant that the real highlight of the night was upon them; the hi-touch session with Seong Wu himself! Fans made orderly lines according to the sections they were in, as they anxiously retouched their makeup, smoothened their skirts and curled their bangs. Despite being a quick session, it was indeed a once in a lifetime opportunity that any fan would kill for.
Overall, Ong Seong Wu's debut fan meeting went extremely well. From being sold out within minutes and even crashing the site the moment it went live; it would be fair to call the show an utter success. To garner this many fans, despite not even having an album out yet is nothing short of impressive. With his drama debut releasing soon, it's no surprise that if he returns, the number of attendees might just double.  If this is just the start, then Seong Wu has nothing to be afraid of. His future's so bright that if anything— he's gonna need a good pair of sunglasses.
Images by Hatchery. Article by Leyasheena Panicker.
Follow us on Instagram, Facebook or Telegram for more updates and breaking news.