Leading bubble tea brand, Tealive is celebrating a milestone with its "Tealive Breakthrough Moments" campaign at Mid Valley Megamall's ground floor, centre court, from 14th March until 17th March.
Having achieve 222 outlets throughout the country, Tealive is giving customers a chance to fulfil their breakthrough wish as a token of appreciation. The festival is open to the public. In conjunction with the celebration, Tealive has set up 5 festival attractions that you can look forward to:
1. Asia's Largest Bubble Tea Pit
What's more Insta-worthy than a pool of bubble tea?
Visitors are welcome to snap a photo with this aesthetic giant bubble tea pit. In fact, Tealive will pick one winner a day for the # MyTealiveMoment photo contest. The winner will get a year of Tealive supply.
2. Breakthrough Menu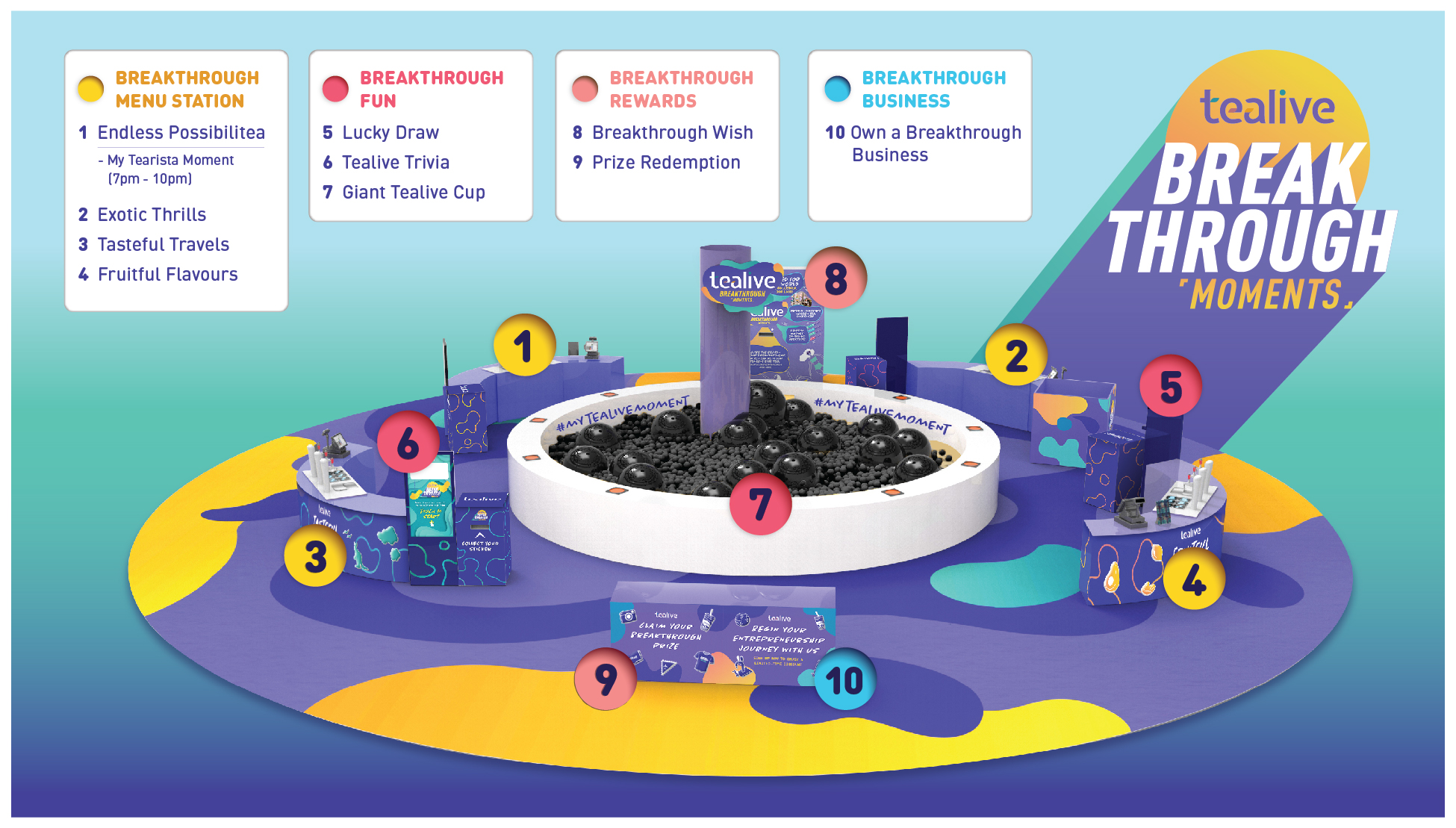 Exclusively made for this event, Tealive is offering you exclusive drinks that will only be available during the span of this festival. Here are some flavours that you can expect to try: Black Diamond Milk Tea, Aussie Tim Tam Shake, and Chinese Osmanthus Goji Milk Tea.
If you are feeling adventurous, you can try their Salted Egg Pearl Milk Tea or their Chilli Mousse Milk Tea. We heard it's really spicy. Ssshh.
3. My Tearista Moment
Don't like what's being served? No worries, with "My Tearista Moment", you will get a chance to let your inner Tearista shine! Tealive is giving you a chance to get behind the counter with your Tealive apron and make your very own Signature Pearl Milk Tea at a price of only RM8.
4. Tealive Trivia
It's not a secret that we all love Tealive. Why don't put your love for Tealive to the test? Head over to Tealive Trivia to test your Tealive knowledge by answering 3 simple questions. Winners will get to win limited Tealive prizes.
5. Breakthrough Dance Battle
Love to dance? Tealive is holding a dancing competition, where aspiring dancers get to show off their dancing skills in front of a panel of judges. Winners will get to walk away with RM5000 and a trophy. Rumour has it, intentional dancers are also set to appear.
This celebration is also in conjunction with Tealive collaboration with Petronas. It was officially announced on 14th March that an additional of 300 Tealive stores will be set up in Kedia Mesra outlets throughout the country.
For more information, head over here. 
Follow us on Instagram, Facebook or Telegram for more updates and breaking news.