Paydays are dangerous. They transport us from the land of poverty to the land of riches within minutes. Like a homeless person who has just won the lottery, we get giddy and don't know what to do with all the money. Your wants take over your needs. Your eyes are blurred by the endless possibilities your paycheque brings. You have renewed enthusiasm for life and get all your priorities mixed up.
Should you pay your bills or buy Rihanna's new Fenty make up collection? Well, obviously you can't make that trip to the bank without proper coverage and highlights on your face. We all know what happens on that ONE day we leave the house without wearing make up – we bump into our ex and his new girlfriend.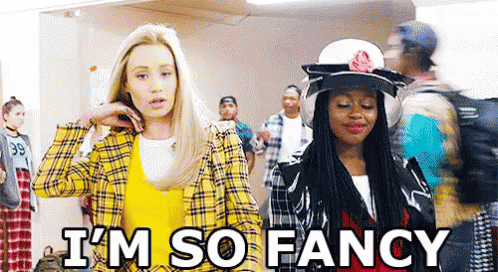 We also immediately upgrade to first class. What's for lunch? Some place nice, of course. You can now toss away that cup of instant noodles sitting on your desk. Nescafe? Bitch please, Imma head to Starbucks.
It's reallllly hard not to spoil yourself a little when that paycheque comes in – it's probably easier to convince Tom Cruise to stop making Mission Impossible movies. But if we don't take any precautions, we might go back to digging up that instant cup noodle that we tossed away 3 days ago.
We spoke to a few Malaysian girls to discover their spending habits, and also asked them what are the top places they avoid on payday to make sure they don't end up spending their rent on an eyebrow kit they didn't really need.
9/10 women called Sephora the demon of all demons
We interviewed a total of 10 girls, and 9 of them immediately said they try everything in their power to avoid Sephora on payday. It's official, Sephora is a black hole that sucks you in – once you're in there's no turning back. From their stunning in-house Sephora collection, to Rihanna's irresistible and inclusive Fenty Beauty collection, it's hard enough to walk out of the store empty handed even when you're broke, more so when your paycheque just got through.
2. Zalora because sale and promo codes! 
Shopping on Zalora is extremely easy that you don't realise how much damage you're doing to your bank account until it's too late. You can shop for your favourite items at discounted rates, there are plenty of promo codes, and their return policy is super convenient! Also, the packages usually get delivered in 1 or 2 days, and before you know it you're back on your laptop shopping again.
3. Forever 21 because it tricks you with cute and cheap items 
Forever 21 ranks third on our list of dangerous places to visit after payday. According to one of the respondents, Hannah, it's so easy to find cheap items that you don't realise how much you have amassed in total. "I tend to avoid Sephora and Forever 21. Too easy to find small things that add up and suddenly your bill is RM700+!" she noted.
It can be quite a chore for the those of us who work in office buildings to make the trip to a shopping mall, so this really affects those who work in or nearby a mall. Good luck!
4. Colourpop, because $50 USD for 10 matte lipsticks is absolutely worth it 
While I've personally never shopped at Colourpop (because it's based in the US and I fear the exchange rates), it seems like almost everyone else under the sun have done it. "It's super cheap! One lipstick is only $5, so it's like RM 20. Once you reach $50, shipping is free WORLDWIDE so it's a pretty sweet deal." said Carmen, another respondent. For those of you who've never heard of Colourpop, it's a Los Angeles based makeup brand that is cheap and high quality, and has gained a huge following worldwide.
5. Zara and H&M because we all secretly want to be a princess 
High-street fashion brands are the best, they make you look chic and trendy with both basic and essential pieces. In fact, it is a well-known fact that even the Duchess of Cambridge wears Zara when she feeling casual and wants to go for a laid-back look.
"With Zara, it's easier to copy celebrity looks, especially Olivia Palermo and Meghan Markle, without spending half of what they actually do for timeless pieces. So for me, my kryptonite on payday would definitely be Zara – because I'm always trying too hard to dress like a princess." said Atiqah, who dreams of marrying Prince Mateen of Brunei one day.
What about you guys? What is your kryptonite on payday? Let us know in the comments below!
Follow us on Instagram, Facebook or Telegram for more updates and breaking news.