There is a style of fringe for every aesthetic – from strong and harsh, to soft and seductive.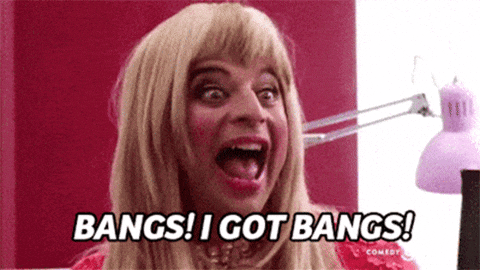 This year has seen all that and a bit extra, by far – although the previous two years were concentrated on embracing natural texture and uncomplicated haircuts. Bangs are something people think a thousand times to get. They're intimidating, because it's scary to imagine how they'll turn out. But tell you what – bangs are definitely having a moment now. Also, the fact that they're so adaptable is another important contributor to bangs' popularity.
Convinced? If you're ready for a chop, scan our list of the hottest fringe styles for this year, and tell your stylist all about it.
McDonald's Bangs
This style of fringe is meant to separate in the middle, with ends that flow down towards the corners of your eyebrows. To style it, toss your fingers through your bangs after a shampoo. Apply a styling product, then use a round brush to blow dry each side (to create the arch) and then away from your face. You can also choose to clip the center part of your hair and proceed with some setting spray and blow dry for the final product.
Wispy Bangs
Ariana Grande recently flaunted her new wispy fringe in an Instagram story, but she's not the only one. This airy, layered look is favoured by Bella Hadid as well. The goal of a wispy bang is to frame your face with softer, finer strands of hair. To give it more punch, style using a round brush.
French Girl Bangs
Taylor Swift, Selena Gomez, and EmRata have all been spotted sporting the ultra-chic French Girl Fringe. It's a blunt fringe with a slightly curved shape that is clipped just above the eyebrows. It's intended to appear slightly unkempt and undone, as if you just got out of bed. It has a laid-back, '70s attitude that is ideal for anyone seeking a casual, dishevelled look.
Use your fingers to muck up your fringe before applying a little texturizing spray to thicken them up to get yours going in the right way.
Curtain Bangs
Of course, the curtain fringe is a classic in the beauty world. It could be the answer if you want a more adaptable aesthetic. In essence, it's a lengthier fringe, divided in the middle and fashioned to 'curtain' your face. It's available in different lengths, may be worn straight, wavy, or curly, and suits a variety of hair types.
Curtain-banging pioneers include actors Dakota Johnson, Halle Berry, and Alexa Chung. Use a round brush to dry your fringe away from your face for the same carefree, bohemian effect. To create various textures, you can also enter with a straightener or curling wand.
Micro Bangs
On the forehead, micro fringe is around an inch long. It can be choppy or blunt for an edgy appearance. A prime example is when Zendaya and Olivia Rodrigo both wore micro fringe to the Met Gala. Air dry or flat wrap your micro fringe with a paddle brush to achieve the perfect look. When your fringe is dry, shape it into an 'X' to make it lie flat, and then spritz some hairspray to keep it in place.
Curly Bangs
Who says curly hair peeps can't have bangs?
As with every other hair type, textured, curly, and coily bangs are growing more and more common. You can wear it straight or integrate it in with your curls. For inspiration, look to Sandra Oh, Oprah Winfrey, and Nicki Minaj.
Follow us on Instagram, Facebook or Telegram for more updates and breaking news.