July is going to be an awesome month for all you LANY fans in Malaysia.
The trio – comprised of Paul Klein (lead vocalist), Jake Goss (drummer) and Les Priest (keyboards) – first announced 3 months ago that they will dropping by Kuala Lumpur for their "Malibu Nights World Tour". We now have more details.
"I'm excited to take this show to every corner of the world," Paul previously told L'Officiel. "We're really going everywhere. It'll be cool to see how the fan base continues to grow." The singer added, "I think that's an attractive quality to people who like music and like following bands. Here's a band that's incredibly transparent and pretty available and seem to have the right perspective on putting fans first."
Besides Malaysia, the American indie pop band will also be touring 6 other Asian countries including Philippines (Manila), Thailand (Bangkok), Japan (Osaka and Tokyo), South Korea (Seoul), Singapore, as well as Indonesia (Jakarta).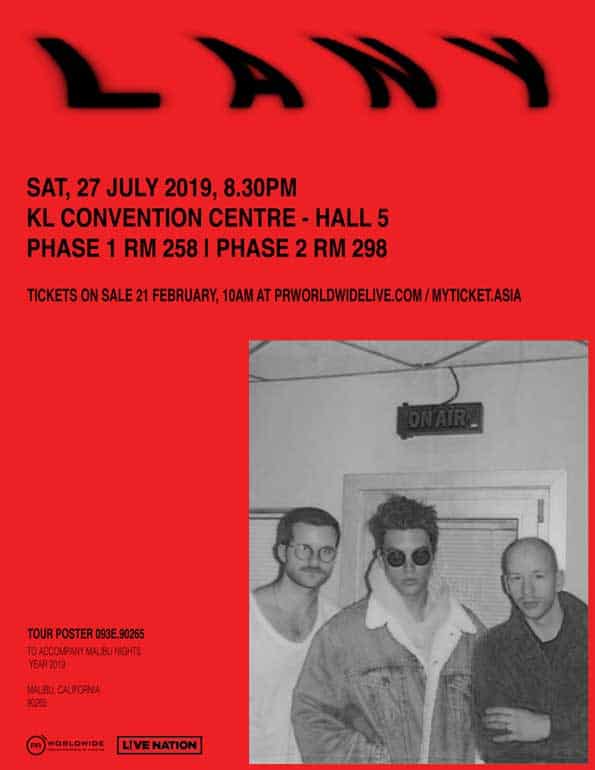 Brought to you by PR Worldwide and Live Nation, the details to LANY's "Malibu Nights" World Tour Live in Kuala Lumpur are as follows:
Date: 27th July 2019 (Saturday)
Time: 8:30pm
Venue: KL Convention Centre, Hall 5
Ticketing: RM258 (Phase 1), RM298 (Phase 2)
Concert tickets will go on sale on Thursday, 21st February at 10am via www.prworldwidelive.com or www.myticket.asia only. All tickets (subject to ticket fee & booking charges) are free standing general admission.
What's your Reaction?