Ahhh, February; the month of love. While singles curse at the wind and walk a little faster past flower shops, couples rejoice as it's the time to celebrate your significant other. If you haven't already gotten plans this Valentine's, read on and perhaps we can help you late lovebirds out! 😉
Priced at RM268++ per couple, WIP has come together with a gorgeous spread of sinful delights; an Adam and Eve themed four-course meal. Us at Hype managed to snag a seat at their high table for a review of their exclusive menu. With inspiration from Greek gods and mythology, prepare to be spoiled this 14th February!
The course begins with two appetisers; the first being the Butternut Squash Apple soup. In terms of the texture, the soup was satisfyingly thick and creamy. Personally, it irks us beyond belief when soup ends up being watery and thin, losing almost all of its flavour. Luckily this was not the case for the Butternut Squash Apple soup. Though it is worth noting that the taste of apples end up drowning with how overwhelming the taste of butternut squash is. Regardless, it is a fantastic soup that's worth trying.
Next, we have the second appetiser of the night; the zesty Citrus Mixed Berry salad. This was quite lovely to dig in, as the mix of fruits and vegetables proved to be a gorgeous mix. However if you do find yourself feeling parched while scarfing down leaves, worry not! There is a refreshing chaser of their Garden of Eve cocktail, available in alcoholic and non-alcoholic options.
The cocktail (appropriately named 'Garden of Eden') is an ambrosial meld of gin, elderflower liqueur, cider, apple juice, apple syrup, mint leaves and lime juice. Garnished with luscious red rose petals, this was easily a favourite of the night! The non-alcoholic version is more on the fruity side, making it equally as refreshing to take swigs from while chatting.
But enough yapping—it's time for dinner! The set comes with two entrees; a choice between the Pommery Salmon – a juicy salmon fillet with balsamic grain mustard sauce – or the Tenderloin with Berry Coulis served with honey balsamic roasted brussels sprouts, baby carrots and broccoli.
For you pescetarians out there (or just fans of fish in general), this dish proves to be a rather impressive spread for the night. No lie, we had our doubts before the plate arrived but within the first bite— all of that was washed away! The flavour of the fish and accompanying balsamic grain sauce was present in every bit of the slice, making it extremely enjoyable. The asparagus and mash that accompanied it balanced out the flavours very well, though giving a little Asian kick to it.
As for meat maniacs, your answer lies in this romantic red spread of the Tenderloin with Berry Coulis! With a juicy bite every time you raise your fork, the entree was not here to disappoint. The dish also came with a side of veggies;  roasted honey balsamic brussel sprouts (which we particularly enjoyed!), a stalk of baby carrot and broccoli. Uniting the sweetness of the berry coulis with the savoury tang of the meat, we join our hands in holy matrimony of this delish dish!
After a hearty meal, it's only fitting to end the night on a sweet note. Though you may be getting some sugar from your hunny later, we were quite impressed with the dessert that came with the set.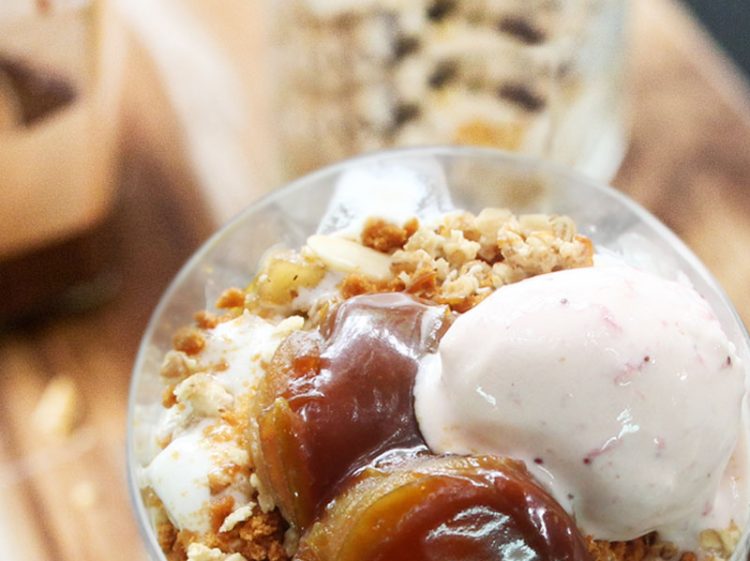 What better way to seal the deal with a kiss… of Apple Confit Parfait? The dessert consisted of apple confit, crumbles of Lotus biscotti and Haagen Dazs' strawberry ice cream. Keeping in the theme of romance, we can see why they opted for a berry finish. No complaints from our end, the combination was an excellent end to the night.
The Adam and Eve set will exclusively be available on 14th of February onwards. PS: make sure to dress up when you come visiting the Garden Of Eden – there's a snake charmer photographer who wants to immortalise your visit! If you're lucky, maybe Cupid's arrow will shoot something extra in your direction 😉
Available from 14th of February onwards, call 03-2094 1789 / 6012-650 5722 for reservations. For more info, visit their WIP's website here.
Review by Leyasheena Panicker.
Follow us on Instagram, Facebook or Telegram for more updates and breaking news.